Are you a music enthusiast and use the Rythm bot for listening to music on Discord? Then, how would you feel if suddenly the Rythm bot didn't work?
It's very disappointing, right!
I am an audiophile and use the Rythm bot on my servers to enjoy music with my buddies. But, recently, I've faced the same issue as you and got very frustrated. To get rid of my frustration, I began extensive research to find the solution. And, fortunately, I got the perfect answer to it.
So, Why does Rythm bot stop playing music? 
Rythm bot stops playing music when there is an outage in the bot's servers that causes the Rythm bot not to play music. Type !invite in the server, select Official Discord, join the server, and check #outages for updates to see if the Rythm bot is down.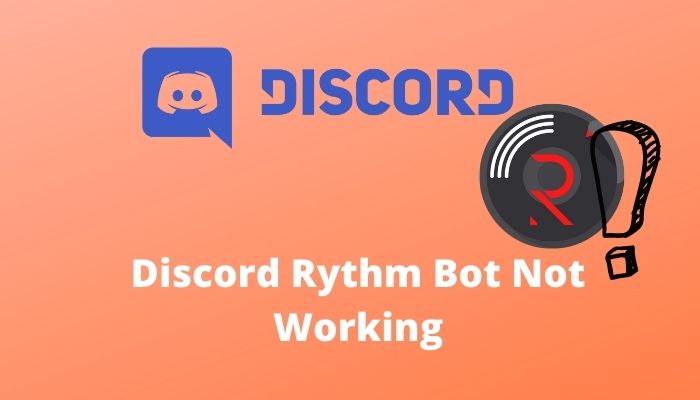 In this post, I will explain why the Rythm bot is not working and isn't playing music anymore. And in the later section, I'll show you the methods to fix those issues and enjoy listening to music on Discord again.
So, without any further adieu, let's start the journey!
This step also helps in fixing Discord Airhorn Bot not Working
Why is Rythm Bot not Working on Discord
Rythm bot is not working on Discord because of the Rythm.fm, it's parent concern, has closed all of it's services on both Discord and their official website. They notified the users that they were working on a new project and would announce it very soon.
Rythm bot is one of the popular music bots on Discord, no doubt. But like any other online service, it has to maintain it's services based on it's server status.
Sometimes Rythm bot has to stop it's music service when it's server is down for maintenance work, library update, or Discord implementation issues. But as of 2021, they don't matter now.
There are some primary reasons why the Rythm bot isn't working on Discord, and I'm explaining them below:
Here are the reasons behind the Rythm bot not working on Discord:
Cease and Desist Order from YouTube
The popular Rythm bot is a project of Rythm.fm, and it provided an excellent service while it lasted.
But, recently, the Rythm.fm received a cease and desist order from YouTube for terms and service violation. The rhythm bot used YouTube's services for commercial purposes and violated their terms and condition of service laws. That's why YouTube is bringing down wrath upon the Rythm.fm, and it's no longer operational.
As a subsidiary of Rythm.fm, Discord Rythm music bot is also going down with it.
Follow our guide to know Discord Commands: Bots and Chat functions
Discontinuation of Rythm.fm's Service
Rythm bot provided the music streaming service on Discord under the supervision of it's parent concern, Rythm.fm.
But, after providing an outstanding service for five years, unfortunately, the developers of Rythm have called the end of it. They notified both on their website and through the bot that they are thankful to the Discord community for choosing their service for streaming music.
But they are no longer continuing the Rythm bot service, neither on their website nor in Discord through the extensively popular Rythm bot. It's a sudden announcement from them that made many users unhappy.
New Project by Rythm Bot Developers
You already know that the Rythm bot is Discontinued by Rythm.fm, and that's why it isn't working. But another reason behind the Rythm bot not working is the developers are working on a different project. According to their website.
Rythm bot provided five glorious years of service. Still, they recently terminated their services because they're working on a new project, and most probably, it is something similar to the Rythm bot service.
The developers notified the users that they'd come up with a new service within a few months for it's former users. That's why they shut down the Rythm bot services.
Read more on How to Add a Music Bot in Discord
How to Fix Rythm Bot not Working on Discord
Let's talk about the methods to fix the Rythm bot not working issue on Discord. As I've already told you, the Rythm bot is not working because the developers of the Rythm bot shut down their services because they're willing to replace it with something newer.
In this case, you and I cannot do anything about it except use alternative services. There are plenty of other Music bots for Discord servers that provide similar services like the Rythm bot.
I have researched for hours to find alternative music bot services for Discord and listed my findings below for you to choose among them. Go through the list and choose the one which is better suited for your necessity.
Here are some alternatives to the Rythm bot for listening to music on Discord:
1. Fredboat 
FredBoat is one of the most famous music bots on Discord. It supports various music streaming services, including YouTube, Twitch, Bandcamp, and SoundCloud. 
Most of the popular servers implement FreadBoat as a music bot because of its outstanding services in the music community.
FredBoat doesn't require manual resetting of playlists whenever you listen to a new song, and it's search capability is much better than any other Discord music bot.
To play a song, first, search it up on FredBoat's database and then choose one of the results.
Also, it lets you connect directly to songs instead of searching for them by their titles in the website's search assistant.
You may also like League Of Legends Discord Bot
2. HYDRA
Hydra is another excellent alternative to the Rythm music bot, and some users also claimed it as the best music bot on Discord.
Hydra has impressive customization. For example, it has an extensive web dashboard, a flexible command list with incredible features, including a fantastic song request channel.
Also, purchasing the premium service unlocks even more features. For example, there are 24 hours of playback support with an autoplay queue. However, the free version is enough for most of the users.
3. CHIP BOT
Chip Bot is another top selection to replace the Rythm music bot.
Chip bot provides 24-hour serv, high-quality audio, and a range of music playback controls. Also, an equalizer setting gives you total control of your music preference.
Chip bot also provides a free one and a premium service that unlocks further customization of your music playback. Chip bot has over 80 commands, and you can use it directly from your Discord server. There's no need to open another window to control your music.
Follow our guide on how to Fix Discord Headphones Not Working
4. MEE6
MEE6 can be your replacement music bot instead of Rythm because it is more versatile.
MEE6 provides a visual music player that lets you control the music playback in the easiest way possible. You can handle most functions with the Reset, Pause, and Skip commands.
MEE6 can play music from various sources, including YouTube, Twitch, and SoundCloud. You can directly search with the song's title or click on links to listen to music.
Also, as an exclusive feature, you can use MEE6 to moderate your Discord server.
5. 24/7
Last but not least, you can replace Rythm with the unique 24/7 music bot on Discord, and it is a fantastic alternative to Groovy music.
Like the other Discord music bots on the list, 24/7 lets you play songs from various music sources, including YouTube or music radios.
24/7 also has a premium edition despite the free version that unlocks extra features, including playlists, volume control, and improved music quality.
These are the top choice, according to my research, if you want to upscale your Discord music listening experience and alternatives to Rythm. Use the one that meets most of your requirements.
Check out our epic guide on how to Fix Discord Krisp Not Working
How to Add Bots to Discord Server
Bots are a great addition to your server if you're interested in maintaining your server and adding some cool features to it. Adding bots to a Discord server is a piece of cake, and it'll only take a few seconds.
Don't worry if you're unaware of the whole procedure. I'm here to help you. I've created a step-by-step guideline to add the bots to your server. Follow the guideline to add it by yourself.
Here are the steps to add bots to your Discord server:
Open a browser on your PC, and go to Discord's website. 

Log in with your credential.

Open a new tab and head over to Rythm bot's website.

Click on Invite.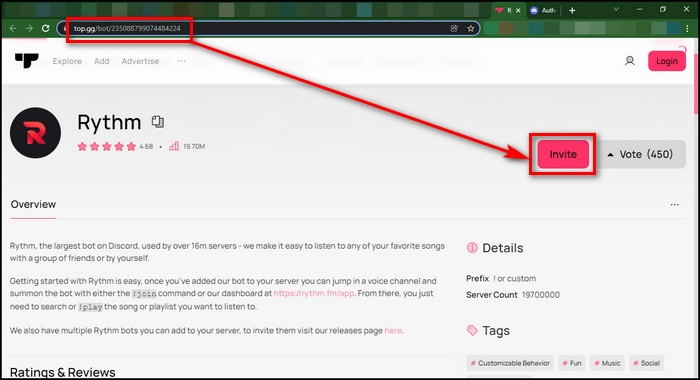 Authenticate Rythm bot's access by clicking continue.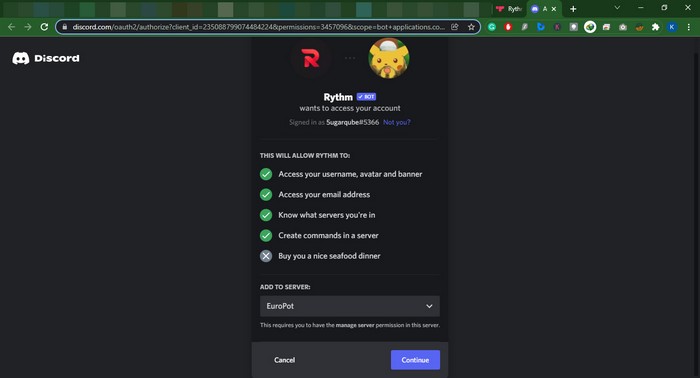 Authorize Rythom bot's activities.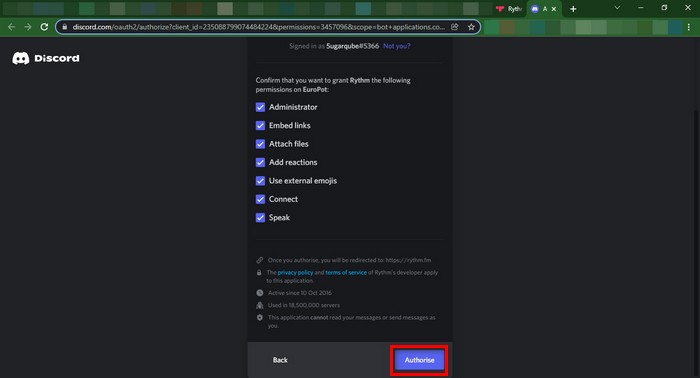 Solve the Captcha to prove you're a human.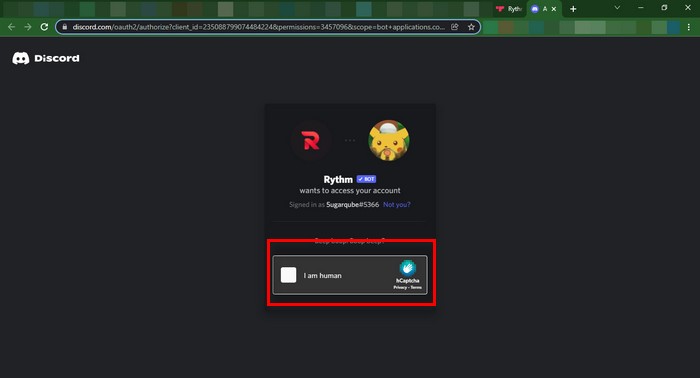 Go to the bot's websites and remember the commands to use them.
Now the bot is installed on your server, customize and use it as your preferences.
Related contents you should read: How To Fix Discord CAPTCHA Not Working, How To Fix Discord Browser Mic Not Working
FAQ
Why are Discord music bots not working?
The Discord music bots are not working because of lagging issues or server latency. The issue is resolved by changing the voice server region of Discord. If the music bot is self-hosted, checking the hosting resources and upgrading it will fix most issues.
Is the Discord Rythm bot down?
Discord Rythm bot is down because it received a cease-and-desist order from YouTube for violating their terms and conditions for its commercial usage. The bot will shut down on 15 September.
Which music bot is best for Discord?
The best music bots for Discord include Fredboat, MEE6, Chip Bot, Hydra, and 24/7. They all provide an excellent service of streaming good quality music from various sources on the internet with easy customizations.
Why is Discord music bot bad?
Discord music bot is bad sometimes because of server latency issues, and changing the voice server region fixes the problem. Selecting a server close to the user's location will reduce the server delay of exchanging music server data.
Conclusion
To wrap things up, it's regrettable to lose a fantastic music bot like Rythm on Discord servers. But, fortunately, there are a significant number of alternatives to choose a replacement.
I've mentioned some of the unique music bots for your Discord server to improve users' music listening experiences. Select your best choice among them according to your necessities.
If you have any further queries about the Discord Rythm music bot not working, please comment below. Our experts will get to you right away!