Origin is a powerful gaming tool that is must be needed to play EA titles. As the days passed, you might have taken some defaults settings as granted in Origin as simple as changing the installation location of games on your system.
You might have thought about if you can change the installation location of the games through Origin or not. I also have the same question running into my head. I tried and figured out the way to change the installation location of Origin.
Stick around as I'm going to share the easiest way to change the installation location of Origin. Don't skip any part as every step is as important as the previous one.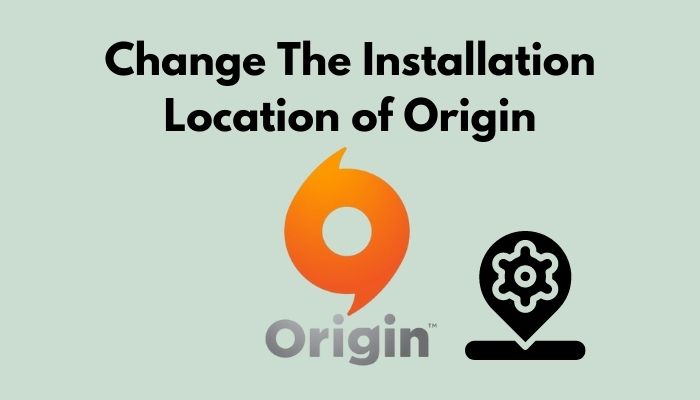 Why You Can't Change Installation Location of Origin?
As per EA games decision, to make it easy to install and play any games through Origin, the desktop client doesn't ask you for the location. It just simply installs into the default drive as it was intended to. Origin is the desktop client for EA.
Also, check out our separate post on how to fix Origin error code 20.6.
Change Installation Location of Games on Origin
Although Origin doesn't ask for installation location while installing any game on the system, there is a way to change the location through the app itself. You just need to tweak some settings in the app.
Here are the steps to change the installation location on Origin:
Launch Origin app
Click on Origin located at top-left
Select Application Setting
Scroll to Installations and Saves
Here in the Game Library, you can see the default installation path
Create a folder at your desired location
Change the default installation path to the new one
Apply all the changes and hit Enter
And you're ready to go. Now all the newly installed games through Origin will be located at the new destination.
Follow your guide to solve Origin not downloading.
Move Already Installed Games To Another Location
It might happen that you have recently bought an SSD. And you want to move your app data or program files to the SSD. As all of us know SSD is way faster than Hard Disk Drive.
And SSD is built to last longer and it is more durable than HDD. As SDD is faster, your apps and programs will run faster too. You have bought the SSD obviously to utilize its speed at its best. Have some time to spare? Quickly check out our epic guide on how to unblock a web page element with uBlock Origin.
Moving games and all the program files related to that game can be a wise solution to speed up the whole process of launching and navigating through the game.
Or you might want to free up some space in your C drive by moving the game files to another drive. Though I don't recommend you install the game on any external device.
Till now, games installed through Origin weren't that easy to move. You needed to reinstall the game again and again if you wanted to move the game file to another drive or folder.
But now, Origin has introduced an option to move the games to another destination even after installation. You can easily use the built-in mover to change the location of the games now.
Check out the easiest way to fix Origin won't go online error.
You can move the games in a single click and Origin will do the registry updates itself for you.
Here are the steps to move the games through Origin:
Launch Origin
Go to My Game Library
Scroll through the games
Select the game you want to move
Right-Click on the game title
You will see a drop-down menu
Select Move Game
A window will pop-up asking for the new destination to move the game
Select the latest location
Create a new folder if needed
Click Move
Now Origin will scan and finalize if the location is suitable for it or not.
This moving process will take some time to finish. In the meantime, you can have a cup of tea instead of just sitting idly in front of your PC.
Also, check out our separate post on best solutions to fix uBlock Origin not blocking Twitch Ads.
Locate the Game on your system
You might be wondering where the files of the game are located at you have installed through Origin. You might have looked into program files and all the other destinations till now.
But why take so much pressure when Origin has the easy solution? Let Origin locate the files for you now.
Sometimes your games might seem corrupted. But you may got no clue why the hell on earth the game got corrupted. Ask Origin to locate the game data files and see what has happened with them.
Here's a complete guide on how to fix Origin won't open error.
Here are the steps to locate the game files through Origin:
Launch Origin
Go to Game Library
Scroll throughout the games
Locate the game you are facing a problem with
Select the game
Right-click on the game
From the drop-down menu, select the Locate Game option
A window will pop up.
Search for the folder with saved the game data previously
Select that game data folder
Let Origin find out what files are missing here
If Origin seems to be lacking some of the files of the games installed with this, it will get those files back downloading and reinstalling the games correctly.
Also check our exclusive tutorial on how to stream Origin games over Steam.
FAQ
How do I move Origin installation?
Origin has the built-in solution to do so. You just need to get into Origin client and find out the option to make it happen. You can read this article to get a better understanding.
How do you change the Sims 4 install location?
Previously Origin didn't have any moving feature which is now available. Launch Origin, go to Origin Settings > Preferences > Installs and Saves, now change the installation path and there you are.
Can I move the Origin client to another drive?
Yes, you can move the Origin client to another drive. But remember your game data files will be corrupted and you will need to redownload them before launching the games again.
Where does Origin install games on Mac?
Origin on Mac installs on the same drive that is being used for OS itself.
Where do Origin games install?
When you install a game through Origin, it copies the game data files into a folder called Program Files (x86). This is the default installation folder. The default path for games installed through Origin is C:\Program Files(x86)\Origin Games. You can manually adjust the default location in Origin.
Where does EA desktop install games?
The new desktop client by EA Games called EA Desktop saves the game data files into the same drive as OS resides in. The destination is C:\Program Files\Electronic Arts\EA Desktop\EA Desktop. It can be changed or modified easily.
Does Origin need the EA desktop?
No, Origin is a separate app that can run on it's own. EA Desktop is a new and replacement app for Origin that is also another standalone app itself. You can use Origin or EA Desktop parallelly or use the one that suits you.
Can I remove Origin if I have EA desktop?
Yes, you can remove Origin if you have EA Desktop. But keep this in mind, EA Desktop isn't properly optimized yet. It doesn't have all the games from Origin too. If EA Desktop serves your purpose, then you can remove Origin. But if not, stick with both of them.
Is EA Origin shutting down?
EA shutting down the popular Origin client for their games in favor of the newest gaming client called EA Desktop. In an interview, EA senior vice president Mike Blank was asked about the whole situation and his words were, Origin software on PC is being rebranded to—hold on to your hats for this one—the EA Desktop App.
Conclusion
Origin is a useful and much-needed software for the consumer of EA Games. Electronic Arts understood the consumers' mindset regarding the paid gaming service. To organize the games and it's services, EA introduced the popular gaming client named Origin for desktop.
Origin was launched back in 2011. But as every item has an expiry date, Origin has also come to that point. Origin will be replaced by the newest desktop client by EA Games called EA Desktop App.
But for the time being, EA hasn't dropped the support for the Origin. It still works. As it works fine, people are still using it.
But many people like you couldn't just find out the way to change the installation path of games installed through Origin. I hope this article helped you as you wanted. Leave a comment about what do you think.