Starting with the Corona pandemic, an increasing number of employees switched to remote working. While working from home, employers began using various collaboration platforms for employee productivity surveillance; Slack is one of them.
If you are using Slack for work, this question may come to your mind — can my boss monitor my Slack messages? The simple answer to this question is not simple.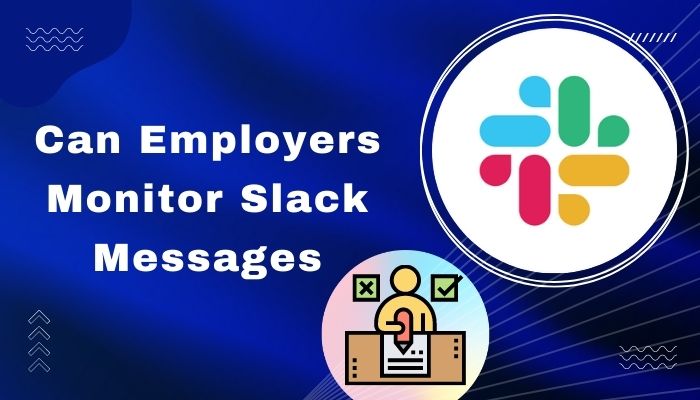 Depending on your Slack plan, your employer can lawfully see Slack messages in several ways, including your public and private channels and DMs.
In this well-researched article, I will inform you how your employer can monitor your Slack messages and what you can do to keep yourself safe.
Let's get started!
Follow our guide to know Slack Change Your Profile Picture
Can Your Employer Read Your Slack Messages?
Slack offers three types of messages while you are communicating with your co-worker. You can use every one of them for different purposes.
Here are the three options for chatting in Slack:
Public Channels
You can see all the available public channels when you are a workplace member. A public channel is used to communicate with all the team members of a workspace on a specific topic.
Private Channels
A private channel is a hidden channel from the rest of your teams. People can only see a private channel when they are added to the channel by an existing member. You can use private channels for a confidential office project or a secret team of a few people.
Direct Messages (DMs)
Direct messages are private messaging features to communicate with a particular person in your workspace. It offers person-to-person communication in private.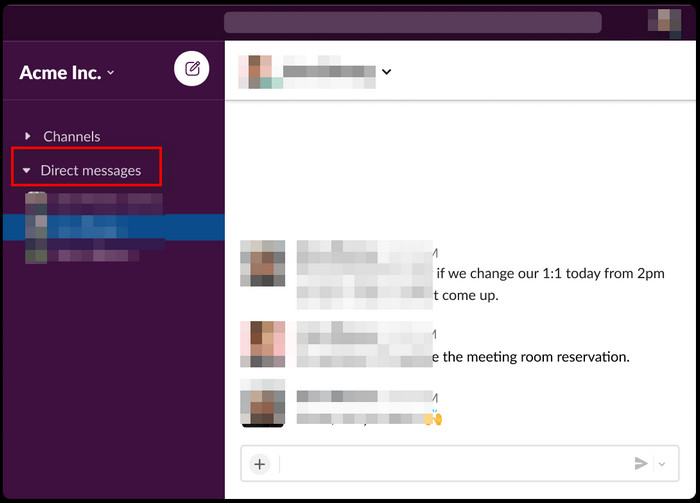 If you did not send an invitation, your employer might not simply be able to read your private channel messages. However, your employer may not entirely be prevented from reading your private messages.
Check out our post on how to Configure Who Can Use Slack
How Private are Slack Private Messages?
Slack offers private channels for private messaging. Direct messages are also not visible to any other member of the workspace. But your private messages are not entirely private as you think private messages should be.
There are many reasons your employer wants to go through your private messages. If you are a part of a lawsuit, your boss might need to store the content of your chats so that your company can use this data when required.
When you send a private message via Slack, your employer can not read your message context instantly. However, they can download analytics for the entire workspace (as a JSON file), which includes all private channels and DMs.
Before 2018, Slack offers to download only the information from the public channels. Nowadays, the employer can also download private conversations as well as public conversations.
Check out our post on how to fix Troubleshooting Slack Messages Not Showing
How Your Employer Can See Your Slack Messages?
Your employer may not be able to see your private messages. Still, he can see them in two situations. When you are part of a lawsuit, and the content of your conversation is relevant to the case. Or when the employer launches an investigation.
A workplace admin can download a public channel message at any time. But your employer must submit a request to Slack to view the private conversation. In that case, your employer must prove that he has a valid reason and permission to export this data.
But things could be different when your boss is paying Slack for a higher-level plan. They can effortlessly get your all conversation in a JSON format. Some third-party softwares helps your employer to collect data; Hanzo is one of them.
You can visit [your workspace here].slack.com/account/workspace-settings#retention to check if your company allows admin access to public and private conversations.
Follow our guide to know how to Fix Slack Installation Issues on PC
Who Else Can See Your Slack Messages?
Besides your employer, law enforcement can also see your Slack messages in some exceptional cases. For example, law enforcement can see your texts if you are related to any crime, and there is a chance that your Slack conversation contains proof of that crime.
On the other hand, if you sue your employer for harassment or any illegal activity and think you have proof in your Slack conversation, you can ask for a copy of your Slack messages from law enforcement.
Additionally, the state court can ask for your Slack conversation to prove you are guilty if you are associated with any offense or crime.
In 2020, the state issued a search warrant for Slack, which happened 38 times in the US.
Check out our another post on Slack: How to View Channel Analytics
FAQS
Can slack admins read private channels?
An admin can only export public channel conversations where the employer can view both public and private channel conversations by submitting a request to Slack. It doesn't matter which Slack plan (free or paid) you use; you must submit a request to Slack.
How to tell if slack is being monitored?
You can check your workspace settings to make sure you are being monitored or not. From your browser, go to [your workspace here].slack.com/account/workspace-settings#retention to see the admin access.
Can Slack be used to track your activity?
Yes, Slack can track your activity. You can see the workspace activity from the Overview tab of your analytics dashboard. To access the Overview tab, open your Slack app > Click on Workspace name > Select Tools > Click Analytics.
Can you read others' messages on Slack?
If you are a Workspace Owner, you can submit a request to Slack for public and private messages. But you have to prove that you have permission to do so.
A Final Thought
Being monitored while working from home is like your employer is hovering over your shoulder. Without a second thought, it could be said that no one likes being watched all day. Especially when your employer is going through your DMs, it feels very uncomfortable.
To avoid misunderstanding, ensure you are not sharing confidential data while using Slack. You should avoid sharing your personal information, including password, credit card information, or anything that can make you uncomfortable if it gets published.
I hope you find this article fascinating and stress-relieving. If you have any additional queries, feel free to mention them in the comment below.
Cheers!