When you are using headphones for gaming or other stuff, comfort is always essential. That said, if you are a glass wearer, finding this comfort isn't always possible.
In a hurry? Just get my #1 Wireless Headphone.
The inconvenience that you face from the glasses' arms is quite annoying. Adjusting the arms with the earcups is often a lengthy process. Even, sometimes you won't be able to adjust it perfectly.
Now, the question is, what's the point of taking so many troubles.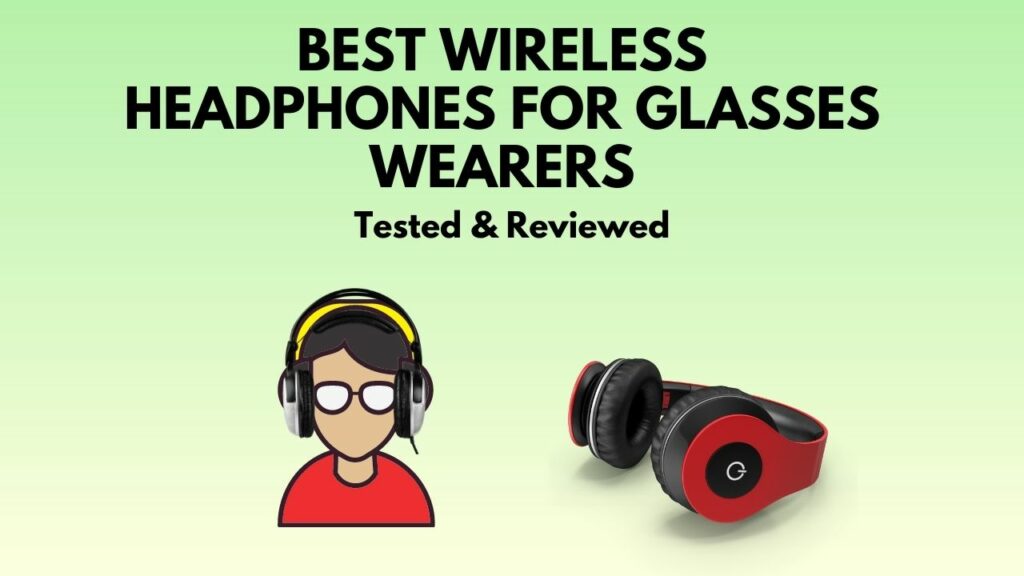 In this situation, wireless headphones can be an optimum solution. And in this post, I will provide you a comprehensive list of such headphones that can cater to your needs aptly.
Read more on why HyperX Cloud Mic Not Working.
Best Wireless Headphones for Glasses Wearers Reviewed
As an audiophile, you don't want to feel uncomfortable whenever you're wearing headphones. Especially, it feels like shit when your glasses are one of the main reasons behind the discomfort.
That is why in this article, I have carefully gathered some of the best wireless headphones that won't cause you any problem as a glass wearer. Also, other than comfort, these headphones promise to offer some top-notch sound quality. So, what are we waiting for?
Here are the eleven best wireless headphones for glasses wearers:
1. Marshall Mid ANC
Marshall is a big name in the audio kit industry. Starting from their amplifiers to their earphones, most of their products are of top quality. That said, this headphone from them comes with some top-notch specs:
Collapsible design
Able to share music
Battery lifetime of 20 hours with ANC
Multi-directional control knob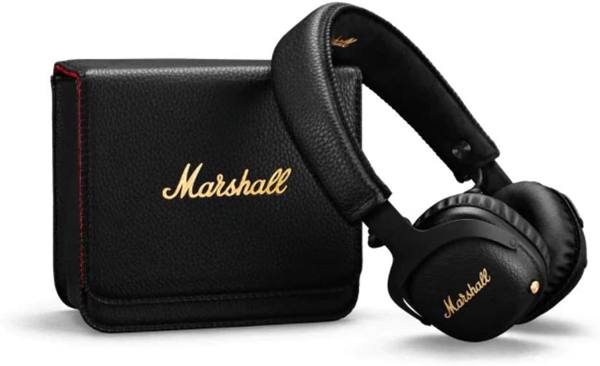 Check Today's Price of Marshall Mid ANC ➜
This model from Marshall is an upgrade to their previous Marshall Mid Wireless headphone. What they have added in this version is the Active Noise Cancellation mode. Also, this model is quite similar to its predecessor in terms of design, which looks comfortable and classy.
The additional noise cancellation slider is present on the right earcup. Talking about the earcups, they are padded smoothly with a well-cushioned headband. The square shape of these cups makes it firmly possible to block any sort of room noise.
Now, the left earcup consists of a switch that controls everything about this wireless headphone. This switch makes the control relatively simpler. And the interesting part is that I often wonder why most brands don't go for this type of switch on their models.
Performance-wise, I would say the quality is quite good. Overall the sound is quite crisp, with the bass being not that overwhelming. The noise cancellation performance is okayish. Normally, you won't hear the sounds that the fans of your gaming rig might produce. Apart from this, there isn't any significant change in the sound quality when the ANC is enabled or disabled.
To sum up, this is a good headphone but not that good compared to top-end models like the Bose QuietComfort series. You can say it's perfect for average users but not for sound purists. The price is also on the higher side to consider. Yet, the classy look with the respectable sound cancellation performance makes it a handy option.
Follow our guide to know how to Fix SteelSeries Arctis 7 Mic Not Working.
2. Audio Technica ATH-DSR7BT
Audio Technica is a brand that most audiophiles trust. The reason is, they offer good headphones at reasonable tags. Now, the model I am going to discuss got some of the finest features to offer.
It comes with the following notable features:
Continuous battery life of 15 hours
Remembers last eight Bluetooth devices paired
Acoustic resistors for controlling airflow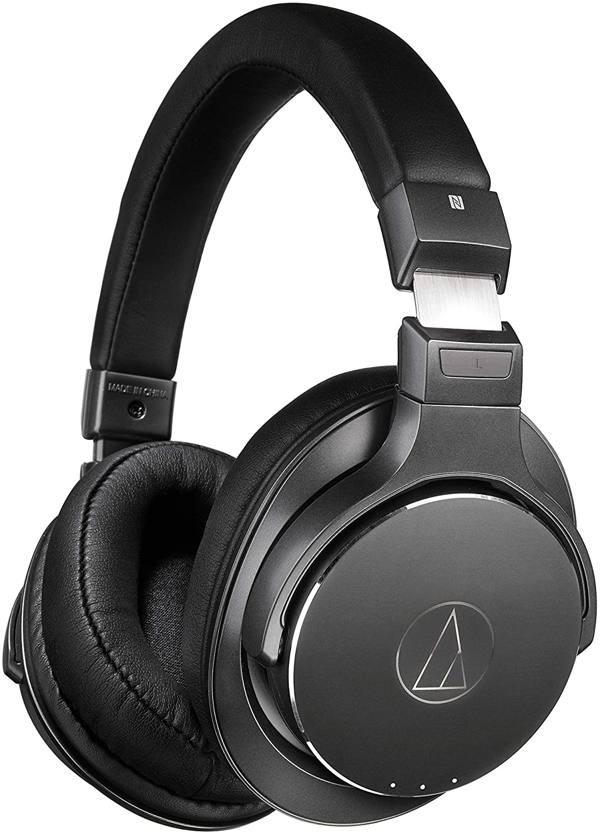 Check Today's Price of Audio Technica ATH-DSR7BT ➜
If you prefer something with a minimalistic design, this model would be a great option. It looks simple yet has an exquisite touch all over. The stainless accents with black and grey color scheme look pretty awesome.
Now, let me tell you the best part about these wireless headphones.
It is designed in such a way so that it can provide you with the highest level of comfort. The earcups bear some high-grade leathers, which eventually makes them perfect to use for long hours. That said, the left earcup has all sorts of control.
Now, as for the performance, I would say that the sound clarity is terrific. When I used it for the first time, I found that the bass level was pitch-perfect. To be precise, it was just right; nothing over or underwhelming.
However, if you are a big fan of hip-hop, I would suggest you not use these headphones. Because the beats can sometimes be somewhat distorted.
This wireless also doesn't come with an additional noise cancellation feature. Still, the performance isn't bad when you consider the earcup materials blocking any slight chirping.
Now, coming to the pricing, it isn't something you would be pleased with, at least with this model. Also, the control buttons for this model are weirdly placed.
Moreover, this wireless model might have few issues,  but as a glass wearer, if you seek comfort, then it is an excellent option to go with. Also, check out the best corsair case for your corsair build.
3. Sony WH-1000MX4
Sony isn't all about Playstations or high-quality HD TVs. Under their belt, they got some exceptional products in the audio field. To be honest, their headphones are the best of class when you talk about quality.
Specifically, the model I will talk about is one of the most viable options for you as a glass wearer. It attributes the following notable features:
Swivel foldable structure
Battery life of hours
Adaptive sound control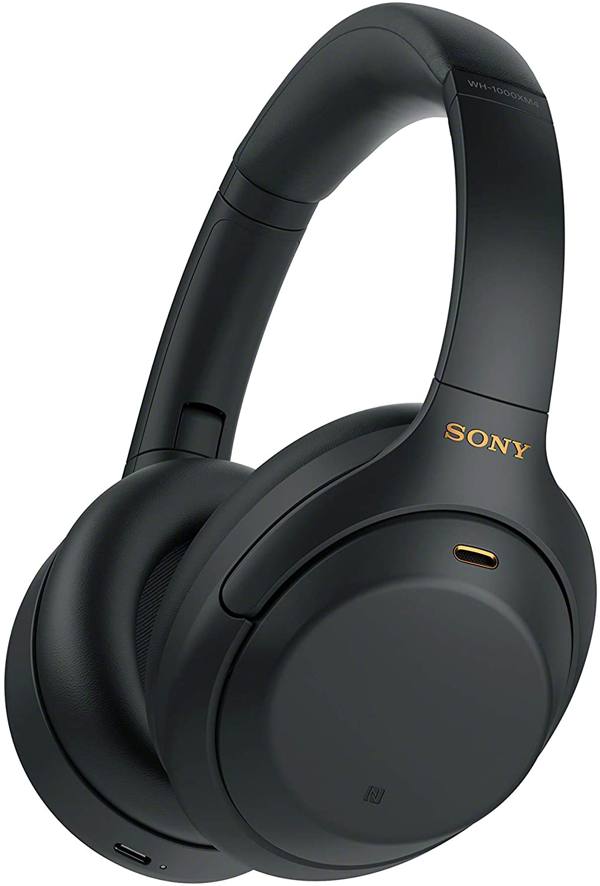 Check Today's Price of Sony WH-1000MX4 ➜
This model from Sony is the sequel to the WH-1000MX3, which gave the industry Bose QuietComfort series a run for its money. That said, the WH-1000MX4 is mainly a slightly improved version of the 1000MX3. What sony did in this model is covering up a few things that the predecessor model lacked.
It comes with a bit of an understated design. But what makes this headphone viable is its lightweight. In fact, it is one of the lightest high-end wireless headphones that you can find in the market.
The earcups are padded well, ensuring that anyone using it would get the highest level of comfort. What I liked after using it is that I didn't feel that there was a headband present, although there was one. Such easiness eventually reduces the pressure both on top of the head and on the side of the ears. As a glass wearer, it can't get better for you.
Among the new introductions in this model, Sony included a multipoint connection that will allow you to connect your phone and desktop simultaneously.
There is another feature named the quick attention mode, through which if you just hold your hand over the right earcup, the audio will pause. Also, there is a feature called Speak-to-Chat. It will turn your headphones into ambient mode whenever you are speaking to someone. Check out our expert's recommended Corsair CPU Cooler for cooling your gaming rig.
What fascinated me the most is the sensor present on the left earcup. It detects when you have your headphones on, and when you take them off, it automatically pauses the playback.
Now, coming to the performance, I must say that this model does justice to its predecessor. The sound clarity is outstanding. Also, the noise cancellation performance is worth mentioning.
In The End, I would say that the price for these headphones is a tad high. But considering the comfort level and the performance, I think it's worth buying.
Check our exclusive tutorial on how to Fix Windows 11 Mic not Working.
4. Bose QuietComfort 35 II
If you want a headphone dedicated to giving you the best noise cancellation performance, this model from Bose is the perfect one.
It comes with the following attributes:
20 hours of battery life
Bose Connect app for easy personalization
Optimized for Amazon Alexa and Google Assistant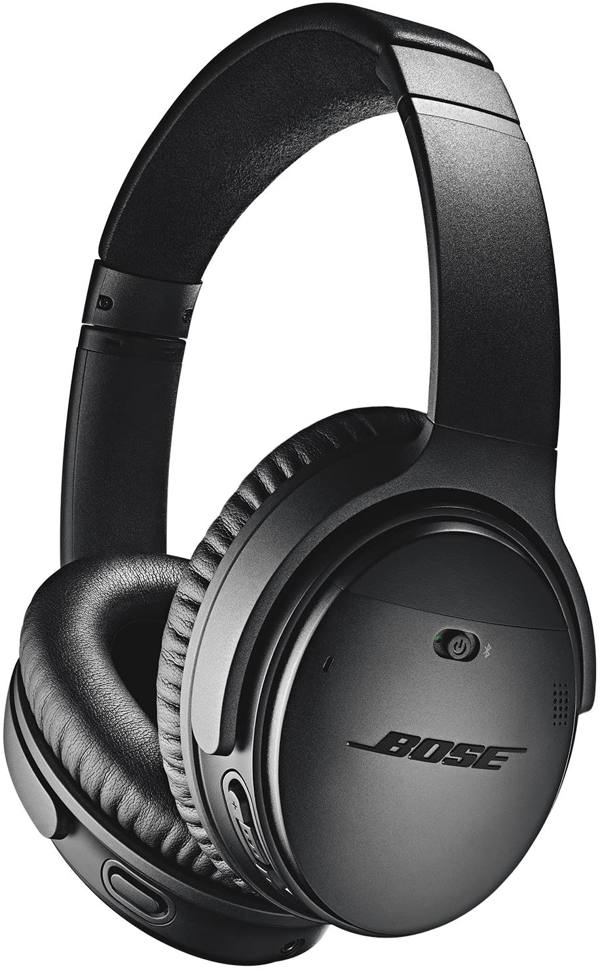 Check Today's Price of Bose QuietComfort 35 II ➜
This headphone is the perfect combo of wireless and noise cancellation. It's the best that you can get. That said, this headphone is feature-rich and has some of the coolest offerings.
You can even talk with these headphones as there exists a dedicated button for the Google assistant.
For that, all you need to do is to connect it to the Bose Connect app. I was pretty impressed with this feature. When you receive a notification or a text, just press the dedicated button, Google Assistant will read it out. And the fun part is you will be able to reply with your voice. Sounds exciting… isn't it?
The build-up is incredible, which means that this headphone lives up to its name. The sleek design makes it a headphone for all ears; it doesn't matter if you are with glasses or not. However, since the material is plastic, it might feel a bit cheap.
The pads used are unique. They can block ambient noise even when the noise cancellation is off. In a nutshell, I can say this is one of the most comfortable wireless headphones that you can buy. It may have plastic elements, but its design won't mess up with your glasses. Do check out the efficient and budget-friendly best corsair power supply this year.
Now, let's talk about the performance.
I found that this model from Bose can handle any sort of sound. The powerful bass notes seemed to be a bit weighty. You can hear even the beats of drumsticks with the lowest frequency with clarity. What felt most amazing is how numerous layers of sound were smooth and clear with no signs of distortions.
That said, if you compare it with something like Sony 1000MX3, it comes with better smoothness and clarity.
To sum up, it's a top-grade wireless headphone that you can get. It offers excellent noise cancellation with comfort, which eventually makes it a top choice to buy.
Follow our guide to Fix Oculus Quest 2 Mic Not Working.
5. Sennheiser PXC 550-II
When we think about headphones with the best noise cancellation performance, the name of two brands come to our minds. That is, Sony and Bose. Their headphones have been leading the market for quite a while. But if a model can compete with those models in the truest sense, it has to be this model from Sennheiser.
This model sports the following notable features:
30-hour battery life
Frequency range: 17-23000 Hz
Smart Pause Autopilot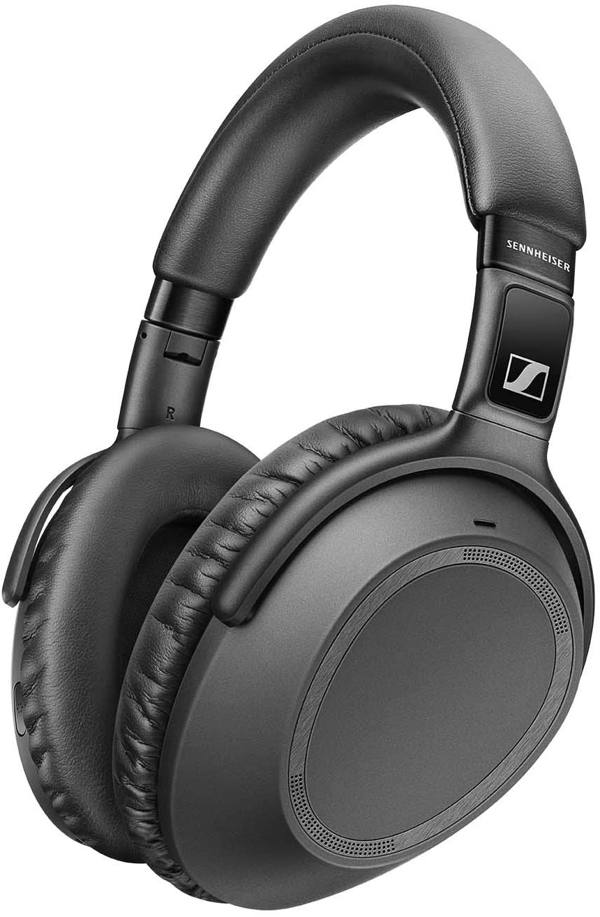 Check Today's Price of Sennheiser PXC 550-II ➜
The brand Sennheiser offers some of the high-performing options at some reasonable prices. And this model exactly has similar traits. It is one headphone that evenly priced matched with the features offered.
In terms of appearance, it's pretty understated. But that doesn't mean it is way too dull. You will find the matte finish and the leatherette accents on the headband look cool. Also, the earcups are ear-shaped, and they allow a tight fit. It eventually helps in the cause of blocking the ambient noise of the room. Now, the materials used in the cups are comfortable enough, but it can even turn out to be a bit tight for a few.
But that's a rare case scenario.
The best part is that as a glass wearer, you will enjoy wearing it as the headband will give enough room to the hands of your glasses.
You'll also find it easy to control this headphone as it does a good number of things automatically. When you open them from the folded position, it turns them on and puts them in a pairing mode. And after pairing, if you remove the headphone from your, it turns off.
As for performance, it made me feel the proper texture of the sound when I was grooving with some Electro-punk tracks. Also, it gives you a sort of naturalistic vibe. However, if you plan to listen to some bass hungry tracks, these headphones might not be the best choice. Do check out the latest full corsair PC within budget.
Now, let's talk about Active Noise Cancellation.
It basically comes with three modes – Maximum, User settings, and totally off. At max settings, to be honest, I found no hiss. And in the user settings mode, you'll find the anti-wind option. It enables you to wear the headphone outdoors on a windy day and still block all types of chirping. But in my opinion, for ANC, the max setting is more effective in any situation.
Moreover, I would say this is a headphone that looks good and sounds fantastic. And all these things at a reasonable price make it a viable option to buy.
Do check out the best corsair mouse for competitive tournament gaming.
6. Jabra Elite 85h
If you prefer excellent battery life over anything, this headphone would be a perfect choice. This model from Jabra is giving tough competition to similar models from market leaders like Sony and Bose.
It sports the following notable specs:
36 hours of battery life with ANC on
Nano-coated internal components
On-ear detection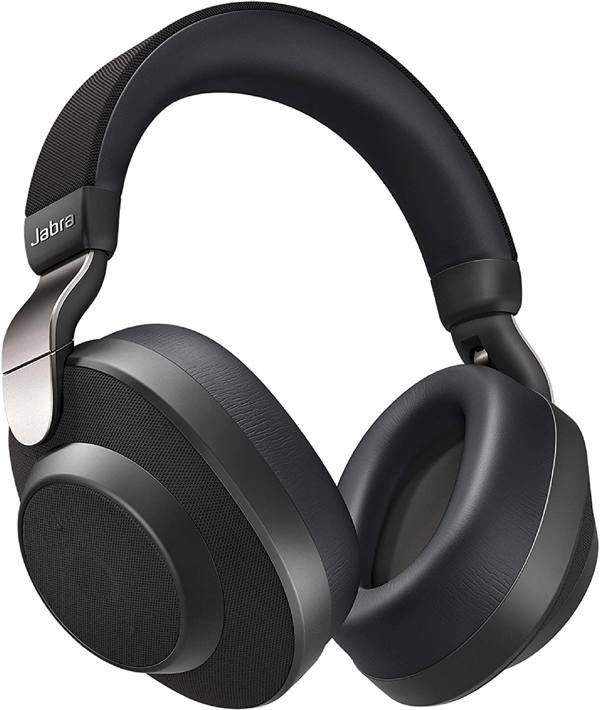 Check Today's Price of Jabra Elite 85h ➜
With this model, Jabra entered the premium section of wireless headphones, composing the feature of noise cancellation.
It does possess an understated design, but the minimalist touch all-over looks quite elegant. That said, Jabra made an excellent decision by not opting for an all-plastic look for this particular model. The woven fabric type covering all-over looks fabulous, in my opinion. Both in the ear cups and on the headbands, it's well implemented, and also, it feels pretty sleek. However, I am pretty skeptical about how long such smoothness will last.
Now, this wireless headphone can do something that most models from Sony can't. That is when the earcups rotate and sit around your chest; the headphone automatically turns off. And if you suddenly pull off the headphone from your head, the playback stops, and again when you put in, it resumes from where you left.
Talking about the performance, I would say that this headphone is not for the sound purists. Unlike most other top-end wireless options, this model doesn't support high-end audio codecs. If you compare it with the Sony WH-1000MX3 or 1000MX4, it's a bit colder, in my opinion. Also, on bass-heavy songs, you might face some distortions. Check out our separate post on the fastest best corsair rams.
But the active noise cancellation performance is like most other high-end headphones. And this makes this headphone somewhat competitive in the middle of all other similar options.
Overall, the best-of-the-class battery, along with superb noise cancellation, makes this headphone a good choice. The lack of high-end codecs might be a bit disappointing, but if you consider all other aspects, it's still a handy one.
Check our separate post on how you Can AirPods Connect To Oculus Quest 2
7. Skullcandy Crusher Evo
Skullcandy is a top brand when it comes to headphones or earbuds. This wireless model from them is especially catered towards heavy bass enthusiasts.
It comes with the following attributes:
40 hours of battery life
Collapsable and flat foldable
Call, track, and volume control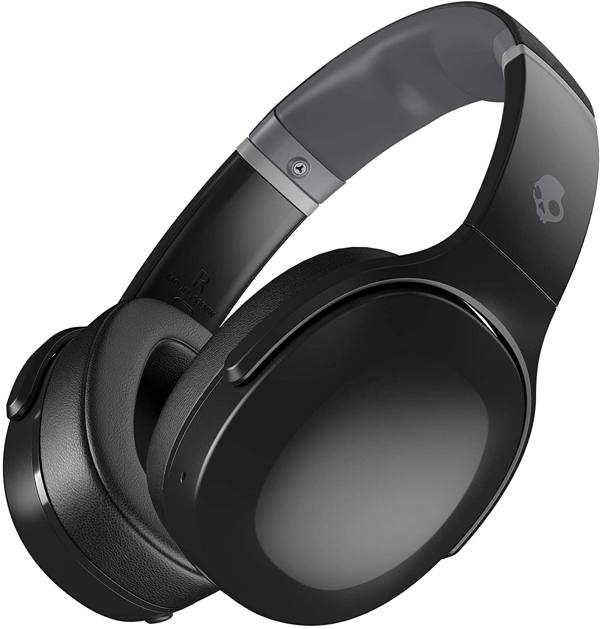 Check Today's Price of Skullcandy Crusher Evo ➜
This glasses-friendly headphone comes with a unique feature that makes it a standout from others. It possesses a sensory bass slider on the side of the left earcup. The primary function of this slider is that it will allow you to customize the amount of bass in music like the way you want. It's something that you can do in any EQ software. But now, with the slider, it's a matter of your fingertip.
Now, the level of bass can be reasonable, or it can even rattle you. All you need to make sure that you hit the right spot while adjusting.
As for the earcups, when I wore the headphone, they snugged nicely around my ears. The pads are also comfortable enough, giving you a warm feeling when playing games at a stretch. It is so smooth and soft that even if you have a bald head, it will sit nicely up there without causing any discomfort.
With this model, you can also have a personalized sound profile. And for that, you need to use the Skullcandy app for customization.
However, this headphone misses out on the feature of active noise cancellation.
Overall, this wireless headset offers good sound quality and excellent battery life. The insane level bass that you would be getting with this model is the best you can get for the price.
Here's a complete guide on how to Play Music Through Mic Easily.
8. Audio Technica ATH-SR6BTBK
Audio Technica has always been a trusted option for wireless headsets. This is their second model that I added to this list, which speaks volumes of how good they are in quality.
That said, this model sports the following notable features:
Foldable design
30 hours battery life
Frequency range: 5-40000 Hz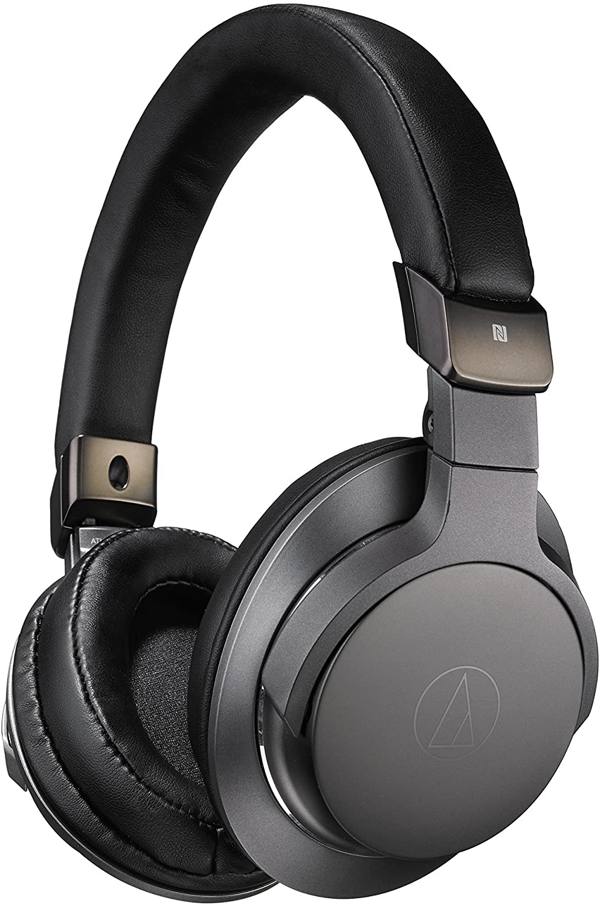 Check Today's Price of Audio Technica ATH-SR6BTBK ➜
As a brand, Audio Technica became a name of trust for many audiophiles because of their reasonable pricing backed up with fair pricing.
This model from them is an exquisite one. Its design is aluminum-based and is quite sturdy. This makes it eventually a bit heavy but makes sure that you have a solid feel. The ear cans snug quite well, and also, they are not too tight, which eventually helps in giving a comfortable feeling around ears while glasses on. Besides, the headband also possesses a well-cushioned leather cover.
Now, all comes down to the performance.
The battery life is commendable, in my opinion. It's not like most other models that don't offer the same value as advertised. While using it, at one full charge, it did last 30 hours. The sound quality is also fantastic. Bass feels quite punchy and accurate. It's not like those dull ones that you mostly get in the cheap headphones. Treble is also well controlled. It really doesn't cause any fatigue in the case of detailed sounds. The only problem that might arise is that there might be cases of distortions for short-pitched sounds.
Other than this, given the affordable tag this model has, makes this headphone a nifty product to go with.
9. Microsoft Surface Headphones
Microsoft jumped into the wireless headphone industry through its surface series of headphones. This model from them attributes the following features:
Battery life of 15 hours
Gets fully charged in less than 2 hours
Active noise cancellation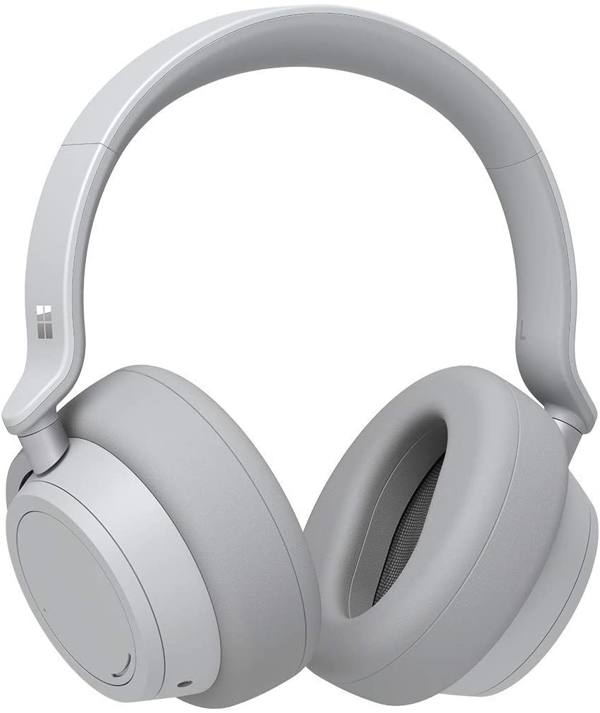 Check Today's Price of Microsoft Surface Headphones ➜
Initially, Microsoft wanted to design something dedicated to Skype. But what resulted from that decision is one of the best wireless headphones out there.
This headphone comes with a voice assistant, which is Microsoft's Cortana. And also, it is featured with active noise cancellation.
Now, design-wise, I have mixed feelings about this headphone. It has that greyish texture all over, making it either highly dull or very attractive, depending on your taste. If you are someone who's a minimalist, I can guarantee you'll love this model. It has that simpler greyish texture with no additional bling.
Also, it was designed to keep the comfort level in mind for the gamers who spend long hours. The ear cups included a memory fit, and these cups fitted quite well with my ears. And the best part is that the headband didn't cause any issue with the glasses.
Performance-wise, I would say that bass frequencies are impressive. The outputs are warm with generous mid-tones. Also, the soundstage in this headphone is awesome. It will give a realistic feel to the music you'll be hearing.
The active noise cancellation feature works pretty well but doesn't block ambient noise when playing music, unlike similar models from Bose or Sony.
Another important note you should take is the battery life of this headphone, which is quite disappointing. But on the whole, if you consider the sound quality, this model is commendable.
Also, check out our separate post on can you charge AirPods without the case.
10. Beats Solo 3 Wireless
Beats is a big brand when it comes to producing accessories for audiophiles. This model from them is highly recommended for the ones who wear glasses. It comes with the following features:
Class 1 Bluetooth
40 hours battery life
Fast Fuel: 5 min charge gives 3 hours playtime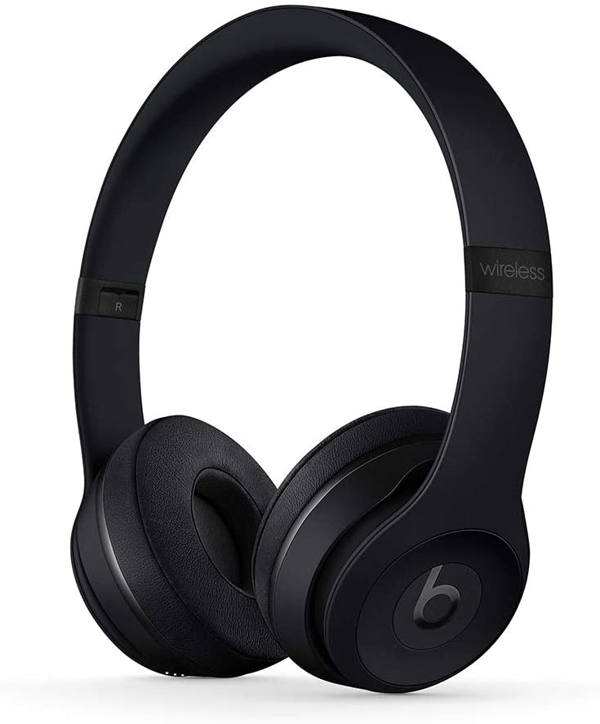 Check Today's Price of Beats Solo 3 Wireless ➜
This model from Beats doesn't come up with an over-the-moon type of design. It looks pretty identical to its predecessor, Beats Solo 2. Also, the plastic body makes it look quite stylish and lightweight. When I wore it for the first time, I found that the earcups are well-padded, and also, the headband was nicely cushioned. Eventually, it will comfort you in longer gaming stations.
The battery life is fantastic, in my opinion, and the W1 chip is used in its management, which is a fabulous addition.
In terms of sound, I didn't find any major upgrade. Hip-hop or Pop music sounds excellent. But if you are going to listen to detail-rich music, then I would say that this model is way behind the similar models from Bose and Sony.
Besides, this model also lacks active noise cancellation, which is quite disappointing in my opinion. The price tag isn't also reasonable enough, which is also a matter of concern.
But the combination of a good comfort level and battery life does make it a decent option.
Here's a complete guide on how to find lost AirPods that are offline.
11. Sony WH-H900N
My last model on this list is from Sony. It sports some of the fantastic features that are mentioned below:
Battery life of 28 hours
Composes of touch sensors
Digital noise cancellation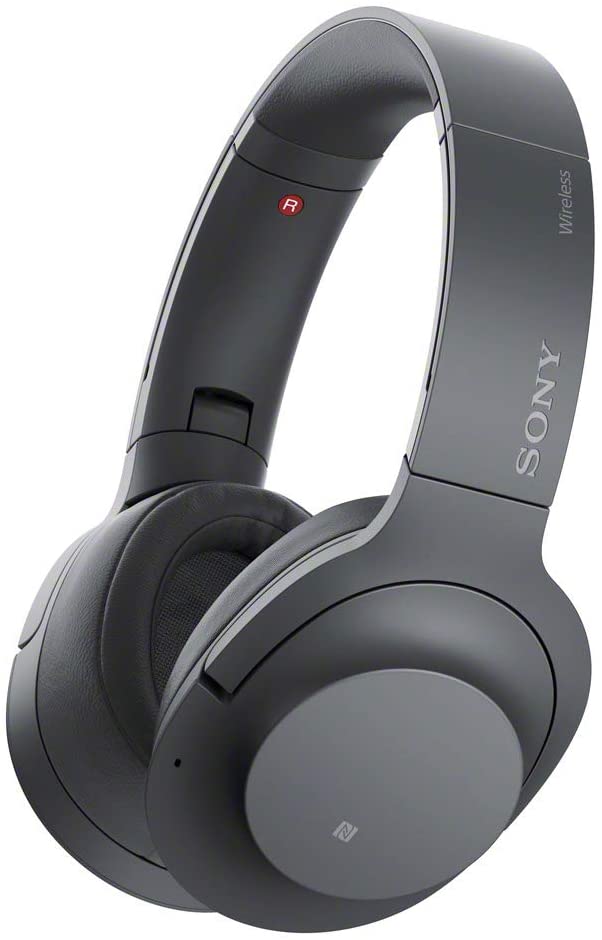 Check Today's Price of Sony WH-H900N ➜
Sony is one of the Pioneers in the wireless headphone industry. They have a wide range of models that can cater to all types of needs of an audiophile. This model from them is a decent option with good battery life and excellent sound quality.
It is featured with some impressive specs that make it easy for you to have a fine musical experience. Also, you'll be able to hear something clear and crisp.
What makes it unique as a headphone is its suitability for traveling. It is neither too heavy nor light, and the sturdy thick ear pads give enough comfort for the user. Although few users might feel a slight compression around the ears, that's a scenario, which is not so common.
Besides, the noise cancellation performance was average, in my opinion. But if you consider the price, this headphone does offer pretty good outputs coming with decent features.
Also, Check out our expert-recommended best corsair keyboards.
Final Thoughts
We all know how bad it feels when the glasses we wear often stand in the way of getting a superb musical experience. But that's no issue anymore. The headphones that I gathered in this review can solve this problem of glasses wearers. Each of these headphones aims to provide the highest comfort level along with a superb experience to an audiophile. My top choice from this list is the Bose QuietComfort II. And the other models in the list are also good enough for consideration depending on your needs.
Moreover, it can be a tough choice to choose the perfect one. But be assured that this list consists of the ideal choice you need.