The Ryzen 9 5900x is undoubtedly one of the most potent CPUs from the latest Ryzen 5000 series,  if you are into PC building. You'll need a powerful memory module to get the best out of it, as the Ryzen CPUs are generally more responsive to RAM speeds than their Intel counterparts. After hours of research, I tested around 97 RAMs, out of which this Corsair Vengeance LPX is my #1 favorite AMD Ryzen 9 5900x RAM.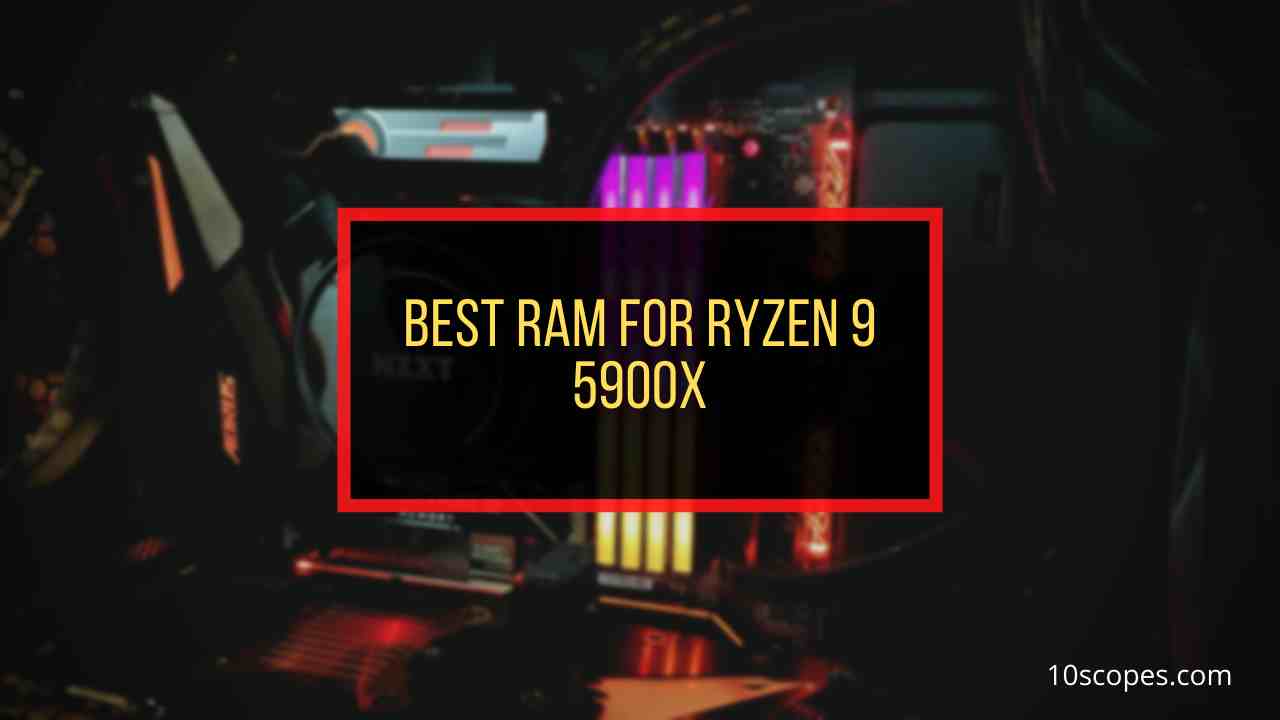 Best Ryzen 5900x RAM – Our Recommendations
Not all the RAM modules out there will give you the same level of output. Some RAMs will act like a beast, while there are also options that would seem somewhat Okay.
Ask any gamer; he will tell you how important a suitable RAM is for a gaming rig. You need to be much choosy while selecting the best option.
That is why, to make your job easy, I filtered out the best-performing RAM sticks.
Before you move on to the review, remember that there are no bad options among these. All of them are unique as they meet specific needs.
Check out our expert's recommended best RAM for Ryzen 5 5600x and Ryzen 9 5950x RAM.
Here are the best RAM for Ryzen 9 5900x:
1. Corsair Vengeance LPX
If you are looking for the fastest and best high-speed RAM for Ryzen 9 5900X, then no doubt, Vengeance LPX is the best option for you. This hardware is available in multiple colors to match your system style.
The Corsair Vengeance LPX is one of the best RAM that has a maximum frequency and supports high-performance overclocking. No doubt it is a high-speed gaming machine. It is well-known for its lower CAS latency.
This kit offers the following specs:
XMP 2.0 Support
Aluminum Heat spreader
Memory Speed of 3200 MHz

This RAM is well-optimized and compatible with the AMD Ryzen series motherboards. The Corsair vengeance line's relatively cheap price point, decent specs, and design that has overclocking in mind make it very attractive for those building a powerful budget PC and a RAM with optimal performance.
The Vengeance LPX is more closely matched to the Vengeance LP than the standard vengeance. The LP and the LPX have smaller aluminum heat spreaders. it means that they are able to fit into more compact setups. the small heatspreaders do have a small impact on overclocking ability.
As the  RAM will theoretically be less able to display heat but the low voltage nature of the DDR4 should make up for this.
Do note that:
You can fill all RAM slots on your motherboard with a single best RAM stick. Just don't confuse the slots with dual-channel.
You can purchase the Vengeance LPX in four different colors (red, white, black, and blue). I know that you can find other RAM kits of equal speeds for half the price or less.
But, this RAM is designed for x99 chipsets which support quad-channel memory and the LPX is built to utilize this to its maximum potential by using Intel's XMP 2.0 software.
This hardware uses Voltage 1.35V making it less power-hungry than its predecessors.
Overall this is the best budget DDR4 gaming RAM for Ryzen processors built to buy.
Pros
»

High performance overclocking

»

Super-sleek

»

Low profile design
2. Adata XPG Spectrix D60G
This module is the best RAM pick for the next PC builders. If you're an enthusiast who likes to show off his rig, you would need a RAM module with the best RGB implementation.
That said, this RAM from Adata got the finest RGB to offer.
This model comes up with the following specs:
Capacity of 16 GB
8-layered PCB
Speed of 3200 MHz

Made of plastic yet fantastic.
The XPG Spectrix D60G looks remarkably good as a RAM module. It sports that sort of a design that you will either like or hate.
The plastic-made heatspreaders equips a diamond-cut design, which serves as the major LED diffuser.
You can argue whether plastic will pull off the job of heat dissipation. But, to let you know, most RAMs don't really generate that much heat. That is why plastic build-up isn't anything that you should worry about.
Also, RGB is the best part of this RAM kit. 60% of the surface area flaunts the glossy lighting.
Probably, that is how this RAM got its name D60G. Now, you might be wondering:
No, it isn't. The looks don't overpower the performance of this RAM kit. I can assure you that. My testing results were pretty decent. Although this RAM might not possess a functional heatspreader, there wasn't any stability issue.
I also found the overclocking headroom to be excellent. The RAM ran at the speeds it was supposed to that too, without any ripple.
One factor that might matter is the price. By current market standards, this RAM isn't that cheap.
However, that doesn't make this kit overrated. Lastly, all I can say is, if you don't care about the price tag, then you can get no better RAM than this one for your Ryzen 5900x build. So, in my opinion, this RAM is one of the best budget RAM kits.
Thinking of building a gaming  PC with all 3rd gen AMD components? Check out our experts recommended best graphics card for Ryzen 7 3700x, RAM for Ryzen 7 3700x, and the best motherboard for Ryzen 3700x.
Pros
»

Looks great

»

Superb performance

»

Programmable RGB
Cons
»

Everyone might not like plastic heatspreaders

»

Not a cheap option
3. G.Skill Trident Z Royal Silver Edition
My first reaction to this RAM kit from G.Skill was:
DAMN… this looks pretty good!
That said, this memory kit can deliver you a top-end performance.
This module comes up with the following features:
Capacity: 32 GB
Speed of 3200 MHz
Aluminum-made heat spreaders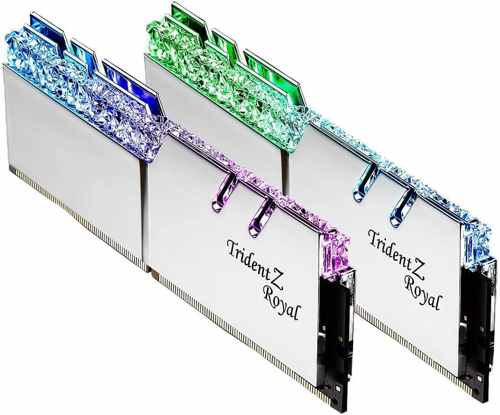 The name Royal suits this particular RAM kit from G.Skill. The glossy-looking heatsink and the jewelry-like design are enough to gain your attention.
Its beauty is enough to make you buy this memory card. Now, coming towards RGB, all I have to say is that it's gorgeous-looking.
You'll notice a crystal-like illuminating part under which there are RGB LEDs. For controlling them, you'll get the Trident Z RGB Control from G.Skill.
The best part of these LEDs is:
When your rig will come to life, and these LEDs begin to light up, they will continuously change colors creating a rainbow-like effect. Just Connect it with the G Skills Lighting control software.
As for the performance, I found this memory card potent enough for high overclocking. You can reach the rated speeds quite quickly. I myself overclocked this 3200 Mega Hz RAM to 3600 MHz. So, for high-end performance, you can rely on this kit with your eyes closed.
Pro TIP: It is always wise to have a lot of RAM capacity.
With that being said, The Trident Z Royal brings unbeatable memory performance.
Now, not everything falls into place every time. With all the superb features existing, this RAM isn't devoid of some setbacks. What I noticed is, unlike most other modules of the same type, this is a bit pricey.
You might argue about the performance it offers. Yet, few modules are there, which deliver the same level of output, having a lower price per performance.
Maybe, it is for the royal design this RAM has. It is not necessary that you need to be concerned about the price.
If you want the budget best RAM, then chill mate! Buy it and squeeze the most out of your Ryzen 5900X. It is the Best Premium Ram for Ryzen 9 5900x.
Also, Check out our expert's recommended best CPU coolers for Ryzen 9 5900x.
Pros
»

Royal Design

»

High-end performance

»

Top-notch heatspreaders
Cons
»

High price

»

Sometimes dust might stick on the glossy part of heatspreaders
4. Corsair Dominator Platinum RGB
Corsair is one of my favorite brands for RAM modules. Their Dominator series is good enough for most high-end rigs. That said, the Dominator Platinum RGB can be a handy option for your Ryzen 9 5900X.
This model attributes the following specs:
Capacity: 16 GB
Speed: 3200 MHz
Pure Aluminum build-up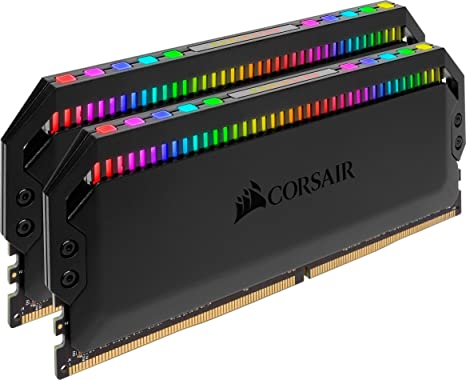 I found this memory module with a unique stealthy design. The blackish texture is the main element of its attractiveness. It also possesses RGB elements. There are 8 RGB LEDs on each of the two modules that you will be getting.
The Corsair ICUE software is there for the optimization of these LEDs. I found this software pretty awesome. It wasn't buggy at all. With this, you will be able to customize the lighting using various patterns. In fact, This RAM has individually addressable RGB LEDs per module.
I tried out ten different colors, though this software offers you a total of fifteen.
Now, to let you know:
This RAM kit isn't all about the RGB strip.
If you want to tweak your system, if you're going to put it under heavy loads, you can rely on it with no hesitation.
The only negative thing that I came across is that it has some clearance issues with a few motherboards. Other than this, it's a great option to install in your Ryzen build-up.
So, Overall this is the best RAM for Ryzen if you have a tight budget.
Also, receive some latest updates concerning the best CPU Cooler for Ryzen 5950x.
Pros
»

Good Software

»

Excellent RGB

»

Decent for tweaking
Cons
»

High price

»

Few clearance issues
5. Thermaltake Toughram RGB
The Thermaltake Toughram RGB is a high-speed gaming RAM that comes in both black and white variants.
In case you wanna build an all-white Ryzen 5900x gaming rig, the Thermaltake Toughram RGB White can be the right memory stick for you.
This model comes up with the following specs:
Speed: 3600 MHz
Capacity: 16 GB
3-way RGB synchronization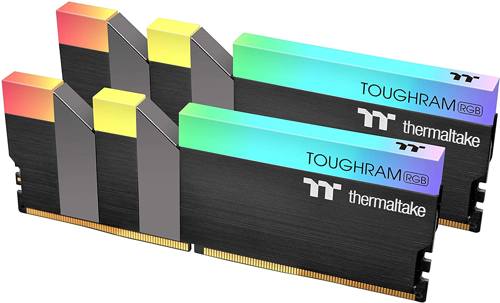 If you ask for my honest opinion, I would say that this RAM from Thermaltake is a good consideration for your Ryzen 9 5900x. Its heatspreaders are of high quality. Also, the 10-layer PCB construction that this memory has, will offer much stability to your system.
When I tested this RAM, the performance was commendable. It reached decent speeds, and the latency achieved decent highs.
These memory modules possess a 3-way RGB synchronization. So, it's super flexible to control the lighting. This feature optimizes a smooth lighting performance. Also, there are 16.8 million colors for further customization to choose from while setting up lighting presets.
Overall performance, this is a mid-ranged RAM, so don't worry about the price. Also, you are getting a limited lifetime warranty.
Have a couple of minutes to spare? Check out our related post on the best cpu cooler for Ryzen 5 5600x.
Pros
»

Affordable price

»

Durable
Cons
»

Height might be problematic to large CPU coolers
6. Corsair Vengeance RGB Pro
If you are too concerned about the money you are about to put on your RAM, I got the right solution. This model from Corsair will make every penny worth it.
The Corsair Vengeance RGB Pro comes with the following specs:
Capacity: 16 GB
Speed: 3200 MHz
CAS Latency of 16

Corsair is one of the top brands for gaming accessories. There is no question about the top-end products they got for building gaming rigs. That said, you can trust them for squeezing out the most of your Ryzen 5900x build.
Also, you'll love to know that in this kit, Samsung B0DIE chips are used. Since you have the Ryzen 9 5900x, it's excellent news for you. Because such types of chips maximize the performance of AMD platforms to a great extent.
Now, this DDR4 RAM works great in factory settings. When I tried it in my rig, to be honest, it was fast.
As for you, it is possible to achieve a 300-600 MHz boost depending on how this best RAM plays with the components.
The RGB was as expected at this price point. Not too dull nor too vibrant.
Overall, it's a decent memory module if you want to save money, that too with a good-looking exterior.
Check out the best motherboards for Ryzen 7 5800x.
Pros
»

Budget-friendly

»

Good boosting ability

»

High-quality chips
7. G.Skill Trident Z Series RGB
What do you think about RGB lighting? Do you love it or loathe it?
If you love it, then G.Skill has the right offering for you through this model. The G.Skill Trident Z series comes with the following features:
Capacity: 32 GB
Speed: 3200 MHz
CAS latency of 16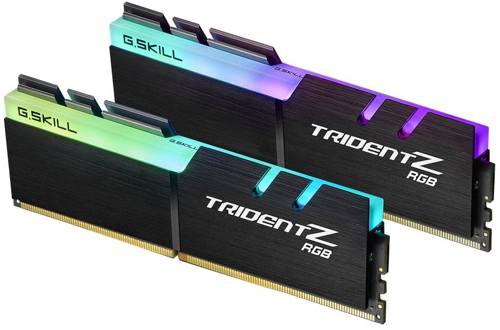 This RAM is well known for its gorgeous RGB implementation and build quality. It looks quite similar to the original Trident Z in terms of performance. The only difference is the plastic accents, which are quite opaque. Also, the heatspreaders are way more well brushed.
The RGB is much vibrant and controllable. You will have trident Z software to control it.
The best part is:
You will be able to control the lights in each of the modules individually. You can add different effects like a rainbow, comet, flash, etc., in this process.
As for the performance, this memory from G.Skill can hit up decent speeds. I was able to reach 3200 MHz in no time. Perhaps, you can go beyond if you tweak it more.
To sum up, a good memory with superb RGB hitting decent speeds.
Check the supported RGB software for Ryzen 5 5600x motherboards.
Pros
»

Nice Design

»

Can withstand heavy loads
8. Teamgroup Elite Plus
Elite-like design with top-notch heatspreaders, this is what Teamgroup has to offer through this model.
The Elite plus comes with some superb features:
Capacity: 16 GB
CAS Latency of 16
Speed: 2400 MHz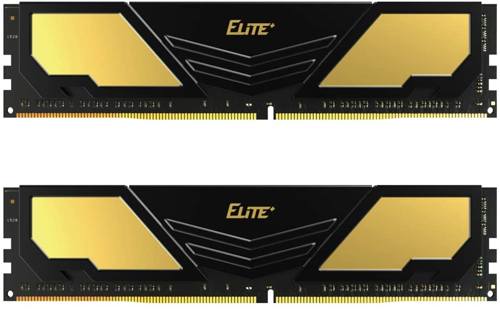 The heatspreders are the center of attraction for this RAM module. It caught my eyes at first glance, and I bet the scenario will be the same for you.
Also, like RAM, it is relatively stable, thanks to the 8-layer PCB construction. Another thing you'll love about this memory module is that it's very easy to install. It possesses curved edges, which will make the job easy for you.
As for overclocking, it's a beast. Though the RAM is rated 2400 MHz, I was able to reach 2700 MHz with ease.
Overall, I must say it's a top-quality best RAM and will feel like a solid buy for your Ryzen 5900x.
Also, receive some latest updates concerning the best CPU Cooler for Ryzen 7 5800x.
Pros
»

Affordable price

»

Easy installation

»

Unique heatspreaders
Cons
»

Issues with latency timings
Ryzen 9 5900x Overclocking Guide
The equation is simple. If you want to get the most out of your Ryzen Zen 3 CPU, you need to tweak it to limits.
You may ask:
What is the real benefit of tweaking the CPU?
Well, I remember myself asking this question. That's why after long research, what I found is that there are gains in FPS values over the default ones. Sounds thrilling… isn't it?
But I think you will agree with me when I say that this tweaking or overclocking should be done systematically.
In no way is this something that a noob should do. This process, if went wrong, can result in damaging your other components. Therefore, there should be some tips and tricks. Right?
Here are the tips for overclocking your Ryzen 9 5900x build:
Go for Precision Boost Overdrive
Precision boost overdrive or PBO is actually an extension of AMD's precision boost. Its main task is to optimize clock speed at different workloads.
This extension will give you the chance to adjust parameters like package power target. Also, you will be able to change the thermal design current and electric design current.
The best part is when you will raise these parameters, and the processor will be enabled to give more headroom to push the performance.
I found this process easy and was able to reach decent speeds. But can't really assure you that you will get the same results.
Use Auto OC
Well, using Auto OC will enable either your motherboard or software to tweak your CPU automatically. This tool will exploit parameters like Voltages to get the most out of your rig.
Also, by using this tool, there is a possibility of getting an overriding boost of 150-200 MHz too, with low effort.
Use Ryzen Master
It is the method through which you can adjust manually. By using Ryzen Master, you'll be able to control clock speeds, both peak, and actual voltages. Also, you can set up memory along with Infinity fabric speed.
The thing I liked about Ryzen Master is its capability to tweak the system without any restart. But be careful with the tweaks as one of my friends went too far and ended up crashing his system.
Tweak the Settings Through BIOS
Better if you go with this traditional method. It is what I did to tweak my Ryzen 5900x. It was time-consuming as you got to boot OS, make changes, and also check performance and stability.
Besides, while you do this, you would lose the auto boost. So, before choosing this method better, you make your mind up.
FAQ
Question: What is the best RAM speed for Ryzen 5900x?
Answer: For the Ryzen 9 5900x RAM speed, the sweet spot is around 3200-4000 MHz. Anything beyond this, the CPU, might break down.
Question: How to overclock the Ryzen 5900x?
Answer: To perfectly overclock your Ryzen 5900x, you can use the following methods:1. Go for Precision Boost Overdrive2. Try Auto OC3. Use Ryzen Master4. Tweak settings through BIOS
Final Thoughts
So, these are the RAM modules you can try out for your Ryzen 9 5900x PC. All of them are different, yet they can optimize your system to the highest level.
My personal favorite is the ADATA XPG Spectrix D60G. It fared up to be the best in my test results. However, other options are somewhat equally good to add up in the build.
I hope that you'll get your desired memory module from this list. Still, if any query arises, then do let me know.