If you are looking to build a gaming rig using the all-new Intel Core i9-10900K, you need to buy the best available accessories.
The Intel Core i9-10th gen is a high-end processor that provides performance of the highest level.
In a hurry? Here's our recommended Top Pick Recommended RAM .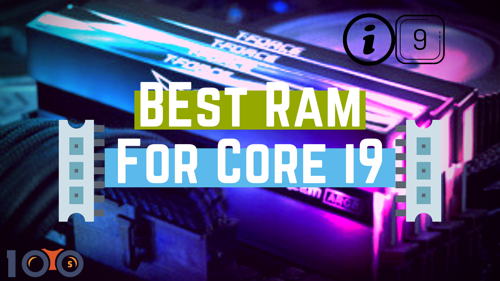 For such performance would need a very good memory module for your system.
However, in this blog, I will tell you about the coolest Memory modules for i9-10900K and there is also a buying guide for you.
Best RAM for 10900k Reviewed
Selecting the RAM for your gaming rig wasn't that tough task to do back in the days.
But since a lot of things have changed, RAM's have also evolved. If you are for gaming, then DDR4 memory module is the only suitable option.
Also, bear in mind that to overclock these RAMs perfectly you will need to use a Good quality motherboard too. So, check out our separate review on the best motherboard for i9-10900K too.
But don't worry, we have got the right list of products for you.
Here are the 9 best RAM for i9-10900K:
1. Corsair Dominator Platinum RGB
Corsair is well known for developing high-end gaming RAM. They have been in the market for a long time, not just producing RAM but also other products like SSD, keyboards, Coolers, etc.
Talking about RAM:
The Corsair Dominator Platinum RGB is one of the best available memory modules for gaming rigs. Its smooth outlook along with top-class RGB lighting makes it an excellent option.
The RAM comes up with smooth edges and clean lines. Since we are talking about the black version, it has a matte black finishing with gold accents.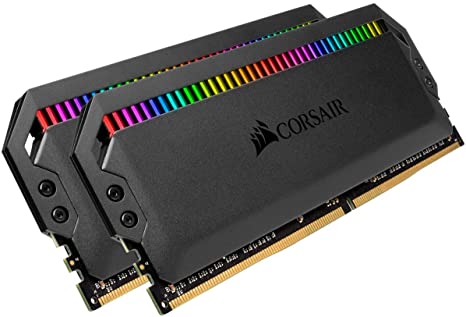 Check Today's Price of Corsair Dominator Platinum RGB ➜
As far as its specs are concerned:
It has a tested voltage of 1.35V
In each module, there 12 ultra-bright LED lights
PCB type is of 10 layers
Speed rating is DDR4-4000
Memory storage is of 32GB
Total number of pins in it is 288
This memory module also comes up with a DHX cooling technology which adds weight on it being a flagship option to choose.
The RGB lighting done in this model is done by using the Capellix LED. It uses 12 addressable LED's which makes it a kickass option in terms of RGB.
You will also have the Corsair's ICUe software through which this RGB lights can be controlled.
The Corsair Dominator Platinum RGB does justice to its name. While overclocking, you can manually achieve 4000 MHz.
Also bear in mind that:
Only overclocking your RAM wont enhance your gaming experience. you will need a good Graphics card too. So, check out our top picks best GPU for core i9 10900k.
In short, what I would say is this RAM is an excellent option with superb RGB for providing you a high-end performance.
Pros
»

Top-notch RGB

»

ICUe Software for controlling RGB's

»

Good build quality
Cons
»

High-priced

»

Module height issue
2. G.Skill Trident Z Royal Gold
If I have to talk about such a memory module which not only offers a performance of beast level but also looks pleasing to the eyes, then G.Skill Trident Z Royal Gold comes up in my mind.
The G.Skill Trident Z Royal Gold looks stunning with jewelry-like design and offers you top-notch performance.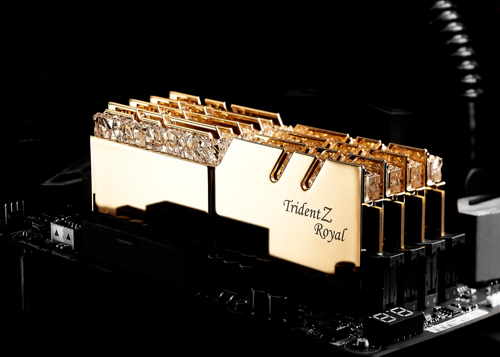 Check Today's Price of G.Skill Trident Z Royal ➜
Now talking about the specifications, it has:
A memory capacity of 16 GB
Memory speed up to 4800 MHz
It has a CAS latency of 18
Voltage of 1.5V
Dual Channel Kit
10-layer PCB
Aluminum heat spreaders
Since I am going to talk about the gold version, the aluminum heat spreaders in this Ram is smoothly polished with gold accent.
The design of this RAM is something from which you can't take your eyes off. The goldish texture is eye-catching and the glow that it provides makes it easily the best looking RAM.
Coming to RGB, you will be awed by the illumination that it provides.
8 LED zones control the color of the lights which are also addressable. You can have a rainbow effect through this lighting which makes it look very cool.
For having such an effect and for controlling the lighting you can use Trident Z RGB control software.
I must tell you that this memory module has a high speed overclocking capability. You will face no issues while overclocking and you overclock it up to 4800 MHz smoothly.
Overall, it is a good overclockable RAM with excellent aesthetics. If both of these features are your main concerns then it's a must-buy for you.
Pros
»

Insanely fast

»

Gives you a premium feel

»

Superb RGB
Cons
»

Expensive

»

The RGB can make it hotter
3. Teamgroup T-Force Xcalibur RGB
If you are looking for an affordable option while buying a RAM Sticks for your gaming rig, then Teamgroup has the right product for you.
It is their T-Force Xcalibur which can meet your exact needs.
It's an RGB memory module that comes with a unique totem design. If you are a hardcore gamer, you will love this total RGB module.
The memory module comes up with a full-color RGB illumination that shines from a wide-angle.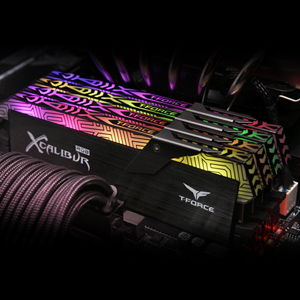 Check Today's Price of Teamgroup T-Force Xcalibur ➜
This lighting is controllable and it is done with the T-force blitz software.
Again if you want to have a good looking yet beast performing cooler beside it then check out the best CPU coolers for i9-10900k.
Now let me tell you about the specifications of this RAM:
It has the dimensions of 145.8 mm x 51.5 mm x 8.8 mm
The frequency is up to 4000 MHz
The heat spreader is made of aluminum
A memory capacity of 16 GB
Tested voltage is of 1.35 V
32000 Mb/s is the data transfer bandwidth
As the specs are mentioned above, you might be craving to know whether these specs are reliable or not in terms of performance.
Well, to tell you the truth the output that you will get from this memory module is very good. The overclocking performance is up to mark and due to unique totem design, the lighting looks aesthetically pleasing.
In short:
I would say that it is a good option to buy as the best looking RAM for your 10th Gen PC within an affordable price tag.
Pros
»

Affordable

»

Decent RGB light sync

»

Unique totem design

»

Decent overclocking performance
Cons
»

Might have an issue with memory timing
4. HyperX Predator RGB
Do you want to buy a RAM priced under $200?
If your answer is yes, then I have got the best option for you.
The HyperX Predator is a super-fast option to choose with a brilliant performance level. Its unique and stylish outlook serves the best in enhancing your system's aesthetics.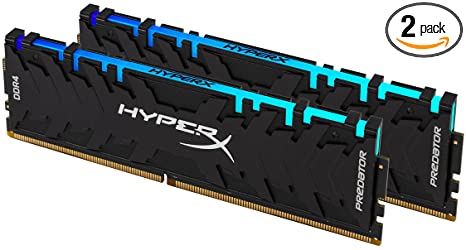 Check Today's Price of HyperX Predator ➜
Coming to the specs:
It has a memory capacity of 16 GB
Memory Frequency of 4000 MHz
Tested Voltage of 1.35 V
Data transfer bandwidth of 32000 Mb/s
On-Die Termination (ODT)
As for design, the HyperX Predator has an outlook that goes by its name. The aggressive design and texture make it look quirky.
It's also equipped with RGB LED for additional aesthetics. Also, the metallic build-up makes it a durable option.
All I have to say is, it does well as a RAM under $200. It is good for overclocking, providing high-end performance.
Overall, with such a catchy design and good performance level, I recommend you to buy this RAM for your core i9-10900K.
Pros
»

Attractive design

»

Cheap

»

Durable and sturdy
Cons
»

RGB isn't up to the mark
Also check out the best motherboard for i7 10700k.
5. Crucial Ballistix MAX RGB
Do you want a RAM with great speed and superb performance level?
If it is so, the Crucial Ballistix MAX RGB can be the right option for you.
This is a memory module which is being specially designed for extreme overclocking, which will give you an upper hand as a gamer.

Check Today's Price of Crucial Ballistix MAX ➜
Coming to the specifications:
It has a memory capacity of 16 GB
The data transfer bandwidth is 32000 Mb/s
Tested voltage is of 1.35 V
Has XMP 2.0 support
RGB modules with 16 LED's
The heat spreader is made up of aluminum and is coated in black. It does a great job of dissipating the heat.
The RGB lighting used here is of decent quality. There are 8 zones in which 16 LEDs have been divided and software is also used to customize them.
The XMP 2.0 supports enables you to have the gaming performance of the highest level, as it facilitates overclocking to extract maximum performance.
To sum up, it's a good RAM to buy considering its performance and the limits it can reach.
Pros
»

Excellent performance

»

Decent RGB

»

Compact design
Cons
»

RGB software can be problematic at times
6. Teamgroup T-force Xtreem ARGB
I have another option from Teamgroup for you. It is their T-Force Xtreme ARGB which can the exact memory module you are looking for.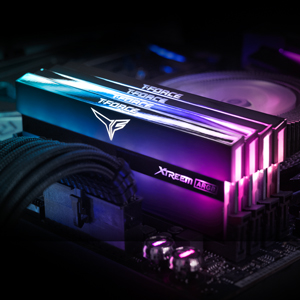 Check Today's Price of Teamgroup T-force Xtreem ➜
Let's jump right into its specifications:
It comes with a memory capacity of 16 GB
The Data Transfer Bandwidth 32000 Mb/s
Dimensions are 48.7 mm x 133.7 mm x 8.1 mm
Tested voltage is 1.35 V
Dual-channel kit
Memory frequency is 36000-4000 MHz
This RAM comes up with a very attractive design that lures the customers in buying it. You might like the mirror type heat spreader in it which is illuminated from behind.
Its exterior is flashy and eye-catching.
If I have to talk about the RGB, I will say that some sort of magic happens when you turn on your system and RGB gets activated.
The body of the memory module diffuses the light and it glows in such a way that it looks mesmerizing. For more customization and controllable features, you get a T-Force Blitz software for synchronizing the RGB elements.
From lighting to overclocking, all the outputs are decent enough.
You might not get that expected overclocking performance, but given its price point, it is considerable.
To conclude:
As a cheap option, it is a good RAM with very flashy and attractive aesthetics. It can be the best choice for your i9-10th gen given the specs it has.
Pros
»

Inexpensive

»

Mirror-like flashy outlook
Cons
»

Overclocking performance not up to the mark
7. V-Color Prism II RGB
For your Intel Core i9-10900K, you will find RAM's from different brands of different price points.
How about trying a relatively new brand?
Well, it might seem risky, but there are few brands out there that are underrated.
Among those, V-color is one. They have been in the market since 2006, producing quality gaming accessories.
Coming back to the memory module, the V-Color Prism II RGB can be the ideal choice for your i9-10th Gen.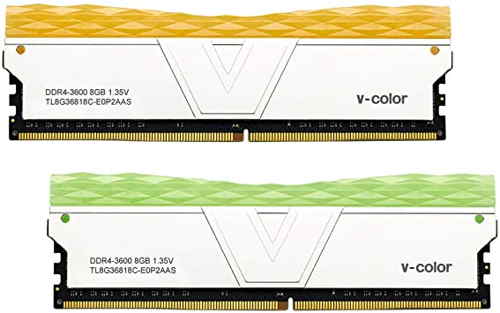 Check Today's Price of V-Color Prism II ➜
Let's have a look at its technical details:
It comes with a memory capacity of 16 GB
Data transfer bandwidth of 33000 Mb/s
PCB is of 10 layers
A tested voltage of 1.35V
XMP 2.0 support
Memory frequency of 4133 MHz
The design that is adopted in this RAM is sporty. The heat spreader used in it is made up of copper alloy.
The overall build gives you a sort of premium feel.
You will also like the RGB lighting used in it. It has the pastel-color diffusers which give the RAM a very unique flair.
You can synchronize the RGB using ASUS's Aura sync or with Gigabyte's RGB fusion. It enables you to customize the color patterns of the modules existing.
The overclocking performance isn't compromised at all in case of this RAM. 4000 MHz can be easily reached that too being stable.
I would say it's a reasonably priced memory module with decent specs, which can be the best option for core i9-10900K.
Pros
»

Good build quality

»

Unique outlook

»

Reasonably priced
8. Thermaltake Toughram RGB
Thermaltake is no different from producing quality RAM's just like other contemporary brands.
Their Toughram RGB is the answer to their loyal customers when it comes to placing the brand above its competitors.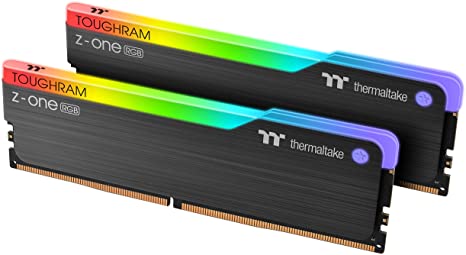 Check Today's Price of Thermaltake Toughram ➜
As far as its technical details are concerned:
Has a memory capacity of 16 GB
Has 10 layer PCB build
16.8 million RGB color
Aluminum made heat spreader
Intel XMP 2.0 support
The design of this RAM has an exclusive essence. Head spreader is made of aluminum which does an exceptional job dissipating the heat.
It has a killer RGB. The 10 addressable LEDs present in it perform outstandingly. It gives a vibrant lighting effect which looks amazing.
To tell you about the performance, it does a decent job when it comes to overclocking and doesn't get rippled too much. For extreme gamers, it can be the best budget RAM to buy.
All I can say about this RAM is that Thermaltake has introduced such a product which is a very good bargain.
Pros
»

Aesthetics of top quality

»

Memory modules are very solid
Cons
»

Might cause issues while installation.

»

LED color diffusion may not be liked by everyone
9. Patriot Viper Gaming Series RGB
Want to buy the coolest looking RAM out in the market?
If that is the case, I have the right product for you my friend.
Patriot as a brand has always looked forward to producing coolest looking products. Their Viper Gaming series RAM's are just one of those.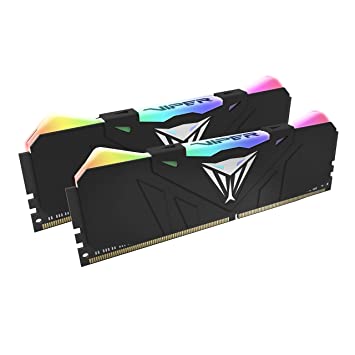 Check Today's Price of Patriot Viper Gaming Series ➜
Talking about its specs:
Memory capacity of 16 GB
5 RGB zones
A tested voltage of 1.4V
Tested frequency of 4133 MHz
RGB sync application
Dimension of .32 by 5.34 by 1.79 inches
First of all, you need to know that, it has a very sporty design. The viper logo is in the middle of the surface which looks kickass.
The RGB is divided into 5 zones and is fully customizable according to your liking. You can use the Viper software provided to customize the lighting.
It gives an awesome output when performance is considered.
In conclusion, all I can say is it's a very good buy for you considering the specs. It's a killer deal that you can make under $150 for the best memory module for Core i9.
Pros
»

Easily affordable

»

5 customizable RGB zones
Cons
»

Low Build quality

»

Might not reach 4133 MHz while overclocking
i9 10900k RAM Buyer's Guide
The Intel Core I9-10900K being the latest introduction from Intel for Comet Lake-S series line of processors, choosing the right RAM for this particular processor can be tricky.
You can find yourself in a situation where you will be in a dilemma and can be prone to choosing the wrong product for your system.
I have a solution for you. My research shows that there are a few factors that can help you to buy the right memory module for your build.
Here are the factors you should follow while buying memory modules for your core i9-10th gen PC.
Capacity of the RAM
Well, the first aspect you should consider while buying a RAM is its capacity. You need to set your priorities right about how much RAM you require.
There are RAMs of different capacities but as you are up for gaming rig, you should go after RAM that has a minimum capacity of 16 GB.
There are options with a capacity of 32, 64, or even 128 GB, you may choose what serves you best in setting up your rig. But never go below 16 GB capacity.
Latency of the RAM
The Latency or CAS latency which in short also known as CL is another aspect to consider. This latency denotes the time required to execute a command by the system through the RAM modules.
RAM with higher capacity tends to have higher latency. It is assumed that lower latency is better as it helps in enhancing gaming performance.
Number of Modules
The number of modules in a RAM affects the bandwidth that is it facilitates having additional bandwidth.
You can say that a RAM with multiple modules can process data at a much faster rate than that of a RAM with a single module.
It doesn't have any effect on gaming though. But in case, if a module fails to function then there are ones to back it up for a RAM with multiple Module.
Clock Speed
By the clocks speed, it is meant what memory frequency your RAM can reach. In the case of gaming, it doesn't matter what the clock speed is.
But for other reasons it might be an issue, so do check the clock speed before buying.
Final Thoughts
So, these are my coolest RAM picks for i9-10900K along with the buying guide that I had promised you at the start of the blog.
Obviously with no doubt, G.Skill Trident Z and Corsair Dominator Platinum are the dominating memory modules when it comes to overclocking.
I hope I have been able to clear all your confusions. Still, if you notice anything confusing do let me know.