Its been almost 15 years since Roblox was released, and even to this day, it is an excellent platform for gamers of every age. You can never get fade up of Roblox because of the sheer number of online users out there creating new games every day, and on top of that, even you can generate your own game.
From role-playing SIms to anime-themed battles, pet collection, pizza house, treasure hunting, just ask for the genre, and you will find a bunch of games on that list. There are plenty of options to choose from.
Having a lot of games does not mean all of them are good in terms of quality. So it may become a challenge to find the fun one. This is where I come into play with some suggestions. I have been on Roblox for a long time and had a lot of fun with my friends playing some unique games.
Here I will be mentioning 10 games that you will have a great time playing with 100 million other gamers just like you.  So without further ado, let's dive into the games.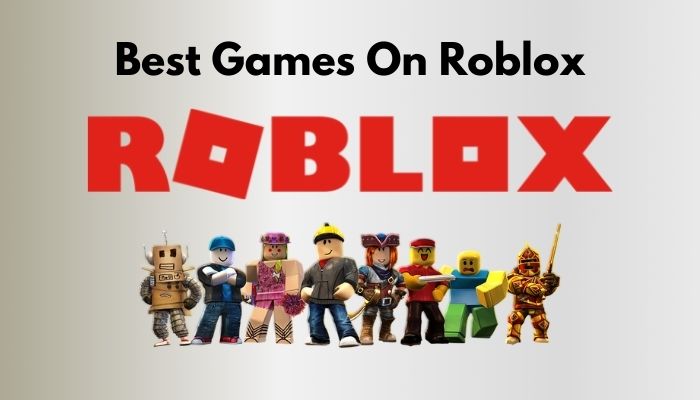 Check our exclusive tutorial on Fix script error in Roblox studio on Windows 11.
10 Best games on Roblox
Here are the best 10 Roblox games you can't stop playing!
All Star Tower Defense
Fighting back waves of enemies is pretty fun in every tower defense genre game but making it best is another task. Upgrading and destroying your enemies may get boring. So, All Star Tower Defense removes that monotony by giving you the opportunity of using your favorite anime characters from Naruto, Dragon Ball Z, or One Piece!
The story mode of this game takes you to some of the famous anime-based locations where you need to fend off the foes in each level or area. It will earn you rewards to acquire more powerful towers. There are also several challenge modes, a PvP mode, and even an infinite mode to test your endurance.
Also, check our separate post for making a kill brick using the Roblox kill script.
Jail Break
A gaming list cannot be completed without cops and robbers, right? So it is more like Grand Theft Auto but in a more family-friendly version. So players can be on either in a game that features driving, heists (for robbers) or raids (for cops), and funky apartments to furnish with all that ill-gotten loot.
Now on its third season of updated content, Jailbreak's uprising popularity has allowed the game creators to earn real currency, which some are using for their college fees. It is incredible if you ask me. If you're searching Roblox for a GTA-lite game that's also reminiscent of LEGO City Undercover, this may well be the one for you.
If you are a beginner then you should definitely go through our guide on how to add friends on Roblox and make a Roblox group.
Adopt Me!
If you remember the Nintendo DS classics Catz and Dogz game, you will love this cute pet game. It is all about raising, dressing, and caring for your adopted critters. Here you can build your own home and decorate it as you please to welcome your new pet.
You can even combine pets to make mutants as you please in the game, but there is no battling or challenges such as PvP. But you can trade with friends. It never gets old because the game gets updated often. In the recent update, they added monkeys to the game to adopt. Except that you can even pet parrots and raindeers, now how awesome is that!
You will face ROBLOX error codes like ROBLOX error code 610, ROBLOX error code 267, ROBLOX error code 279, etc.
Anime Fighting Simulator
As the name suggests, Anime Fighting Simulator is created to have fun with the outstanding moves that are seen in the actual anime. Yes, it does not offer outstanding graphics like the mainstream fighting games, but if you like the genre, it won't disappoint you a bit!
With regular updates, they are making this game more and more fun by adding new features, equipment, and items. The game is currently running its 4th season. On top of all this, the game offers some modes, including tournament mode and newly added story mode. Servers host up to 20 players, and a private server costs 250 Robux (around £2.87) to set up.
Check out our epic guide if you don't know how to make clothes on Roblox.
Shindo Life
Shindo Life. Originally called Shinobi Life 2, the game is a re-imagining of the original Shinobi Life, a Naruto-style ninja game where you explore an open world and fight against opponents in the arena, using your martial prowess and abilities.
This game is hugely popular for its customizability of your character according to your favorite anime character. You can also use spins to get freebies, making your character stronger. Using these freebies can level up your character, grow robust, and become the best fighter you can be!
Check out the easiest way to reduce Roblox Lag & Speedup Gameplay.
Natural Disaster Survival
Natural Disaster Survival is a surviving game with a little bit of the essence of battle royale. Be ready to desperately run for your life and find stuff that will help you shelter against various dangerous elements.
In this game, you will not be fighting against each other by any means, but you will be continuously trying to find cover for various natural disasters designed to kill you for good.
We had to climb up to the top of a glass tower in our first round to escape a flash flood. Then, during another round in the same map, we ran up to the top again, only to find that an earthquake necessitated our distance from all tall buildings. Cue our avatar's disintegration into many, many pieces.
Check out our separate post on how to delete roblox account.
Work At A Pizza Place
We can't leave the fans of cookings games out there, can we? If working in a pizza company was this much fun, you would have been a local owner of a Pizza Hut. Work at a Pizza Place is a game that invites you to join Builder Brothers' Pizza to live your dream of being a cashier, cook, pizza boxer, delivery mule, supplier, and manager.
Here, players can go on a break, visit other houses, and even travel to other islands. They can even host parties in their furnished houses at Party Island. There is a place where you can sell your unused items or buy items at a discount called The Dump.
Check out how you can perform a successful trade on Roblox.
Murder Mystery 2
Murder Mystery 2 is a detective game that you may find similar to Dead by Daylight Mobile if it had a detective taste to it. This game is tagged under the Horror genre. Here one player is designated as the murderer per round and another as the sheriff. 10 additional players can be the innocents.
All three groups play their own set of rules with different victory conditions: the murderer aims to eliminate everyone before the sheriff catches them; the sheriff must try to identify and then stop the murderer, and the innocents aim to survive and can aid the sheriff's investigation.
Almost every one of us is aware of Among Us being so much popular during the pandemic. So it is easily predictable that Murder Mystery 2 had more visits than ever before in Roblox. The game is played in short rounds and you can buy some paid add-ons.
Also, increase the fps count using Roblox fps unlocker.
Piggy
By the name of it you may imagine it to be a very satisfying relaxing game taking place in a rural area with cute pigs. But the reality is a whole lot different than you imagine. Piggy is an episodic Horror game that combines a cutesy, children's TV-inspired aesthetic with survival mechanics and a zombie apocalypse setting.
In the game, you have to escape from a pig called Piggy with a baseball bat in his hand who will hunt you in the building that you are trapped in. What you need to do is find the origin of the Piggy before it hunts you down. If you have got five friends and they like this niche then you can set up a free private server in this game and have some spooky fun.
Quickly check what to do when the Roblox account is hacked.
MeepCity
Here is a role-playing game like Sims where your character interacts with other people to top up the list. In the world of MeepCity, you can chat with people and hang out with them virtually. It's a game of imagination and creativity, from setting up your name to your appearance.
It is almost like a real-life but virtually where you can build and expand your house, earn coins by doing jobs like fishing, or play games like Mario Kart-type races.
In this world, there are a lot of locations that are interconnected, such as shopping malls. Here you can do whatever you want like eat ice cream, play doctor at the hospital, or even visit the Club DJ. You can host your events for up to 50 players.
Also, learn how to reset Roblox password.
Conclusion
Roblox is a vast platform where you can have a lot of fun creating and playing games. If you are new to the platform, this article will definitely help you start your new journey! Hope you will enjoy them all.
If you have any questions about Roblox, then feel free to share them with us!