During my early days of gaming, I was using a pretty generic gaming mouse from a random brand. I was lagging behind my teammates in performance. I felt like something was holding me back from pro-gameplay.
A couple of months later, my mouse broke, and this time I decided to buy a decent gaming mouse.
And that's where things changed.
In a hurry? Check out my #1 recommended Mouse.
I was constantly getting the highest kills and also the MVP of my team. At that point, I realized what was holding me back for all these months, a decent gaming mouse from a trusted brand.
If you're in a situation like me, you've come to the right place. I will guide you through the top Corsair gaming mice and tell you which one would be the best Corsair mouse for your specific needs.
Keep reading this post to the end to know about the best Corsair mouse.
Also, Check out our expert-recommended best corsair keyboards.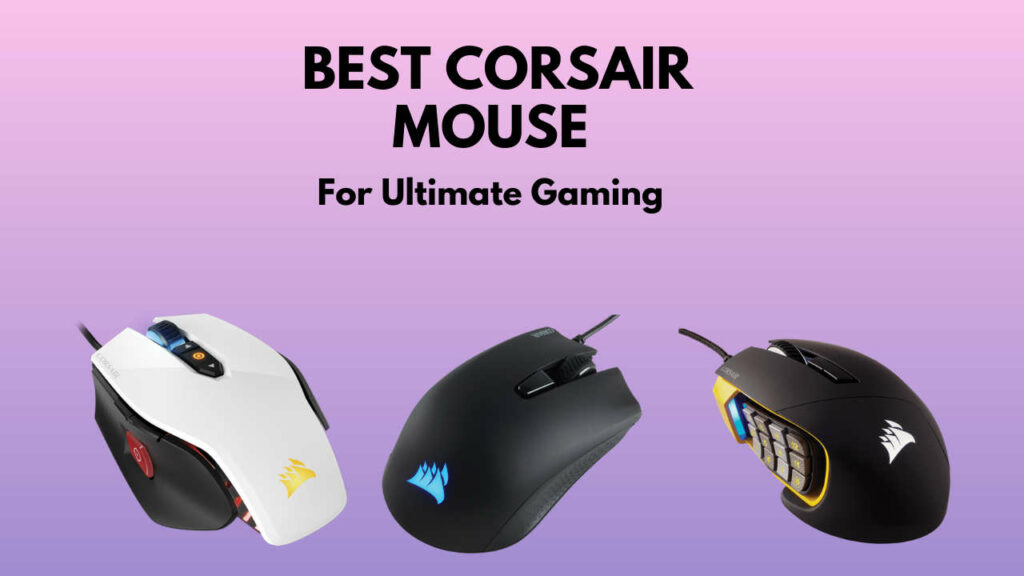 Top 7 Best Corsair Mice
| Rank | Model | Award |
| --- | --- | --- |
| 1 | Corsair Dark Core RGB Pro SE | Best wireless mouse |
| 2 | Corsair Glaive RGB | Best comfortable mouse |
| 3 | Corsair M65 RGB Elite | Best FPS mouse |
| 4 | Corsair Scimitar Pro RGB | Best MMO/MOBA mouse |
| 5 | Corsair Ironclaw RGB | Best looking mouse |
| 6 | Corsair M55 RGB Pro | Best ambidextrous mouse |
| 7 | Corsair Harpoon RGB Pro | Best beginner mouse |
A lousy gaming mouse can cause you a lot of headaches if you're planning to game regularly. It's very easy to buy the wrong RGB gaming mouse that doesn't cater to your personal needs or gameplay.
Here are the seven best Corsair mouse:
1.   Corsair Dark Core RGB Pro SE
If you are in the market for an RGB gaming mouse that packs a ton of cool features, this is the one to get.
Some of the features of Corsair Dark Core RGB Pro SE:
multiple connectivities: wireless, Bluetooth, USB wired
Qi wireless charging
9-zone RGB with RGB bar
2000Hz polling rate
great battery life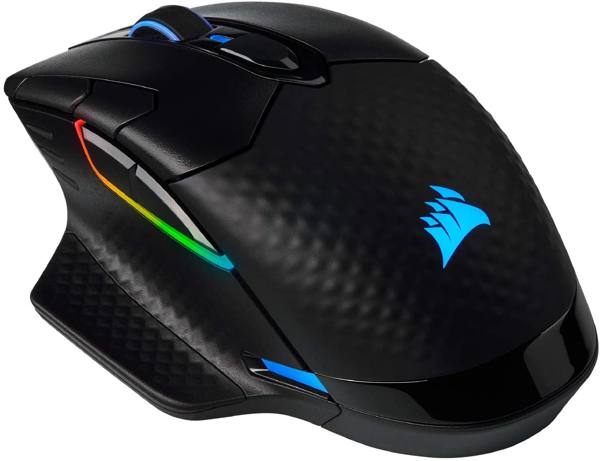 Check Today's Price of Corsair Dark Core RGB Pro SE ➜➜
Corsair packed all the features possible in this gaming mouse. I mean, what does it not have?
First of all, you get a flagship optical sensor, PAW3392, which boasts 18,000 DPI and 1 DPI resolution step customization. It means that you'll be able to fine-tune the DPI as per your needs. 18000 DPI is a lot more than any gamer ever needs, and you'll never think that this mouse is slow or less responsive.
The PAW3392 optical sensor also allows the mouse to have up to a 2000Hz polling rate. With this, you will feel as if there's nothing called an input lag. Every action will feel instantaneous.
The Corsair Dark Core RGB Pro SE features three distinct connectivity modes: Corsair Slipstream Wireless technology (sub-1ms speed), low latency Bluetooth, and regular USB wired. It ensures you have maximum flexibility when using this gaming mouse.
Also, check out the best corsair case for your corsair build.
The Corsair Slipstream Wireless technology packs sub 1ms speed and provides a long and stable signal, so there's no pain of disconnecting or lagging that comes with other wireless gaming mice. The battery life is also great on this mouse.
This is not the end. There's more to it.
When it comes to charging, it has a USB Type-C port. You can also use the Qi wireless charging tech, which is very convenient. If you happen to have a Qi charging supported mouse pad, you can game and charge your gaming mouse simultaneously.
If you are the type of person who loves customizing, this mouse comes with two interchangeable side grips. These are god-sent for someone who has difficulty in finding the proper grip in a mouse.
You can also customize the RGB lighting to your heart's content, thanks to the 9 zone RGB backlighting and four separate RGB LEDs on the sidebar. You can use the iCUE software to customize the dynamic RGB backlighting to sync with your gaming setup.
The weight of this mouse is 142g, and it has a total of 8 programmable buttons. It makes it an excellent choice for FPS or MOBA players who have a palm grip. That being said, if you have small hands, this mouse could be slippery for you.
Overall, I must admit that the feature set included in this mouse is insane.
Check out our expert's recommended Corsair CPU Cooler for cooling your gaming rig.
Pros
»

The best bang for the buck

»

excellent optical DPI sensor

»

top-notch RGB lighting with loads of customization options

»

great build quality

»

Top-notch battery life
Cons
»

can be slippery for small hands
2.   Corsair Glaive RGB
Corsair Glaive RGB is the gaming mouse to buy if you want the ultimate smooth experience and comfort.
A few of the impressive features of Corsair Glaive RGB:
excellent contour shape ensuring solid grip and comfort
high resolution 16000 DPI sensor
three interchangeable side grips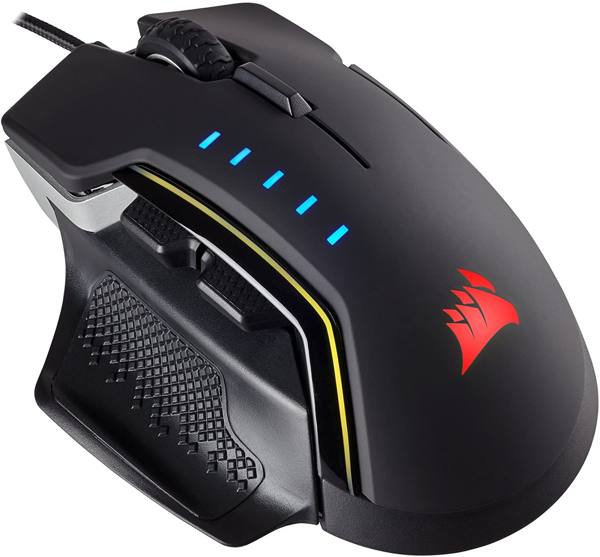 Check Today's Price of Corsair Glaive RGB ➜➜
It is one of the best Corsair mice for various reasons.
The contour shape ensures you're getting an excellent and solid grip on the mouse. It also helps you ergonomically, which is very important for long gaming sessions.
Having a high-resolution optical sensor is essential as it allows for fast actions and movements in games. The PMW3367 optical sensor used here is one of the fastest optical sensors and has a DPI of 16000. You get the lightning-fast cursor movements with this gaming mouse.
The 3 RGB backlighting zones in the Corsair Glaive RGB allow for soft diffused lighting with incredible looks that blend with any gaming setup nicely. On-board profiles will help you save custom profiles without any software help.
We're not done yet.
Also, check out the best corsair fans for your corsair build.
It has three different types of interchangeable side grips to allow you to swap grips according to your needs. The six total buttons present here to ensure a wide flexibility range when gaming.
With a light weight of just 122g, the Corsair Glaive RGB is perfect for hardcore games that want Corsair's best mouse.
Pros
»

excellent durability

»

extremely low click latency and fast

»

very comfy
3.   Corsair M65 RGB Elite
It is a top-of-the-line FPS gaming mouse for hardcore gamers.
Notable features of Corsair M65 RGB Elite:
ultra-performance with flagship optical sensor
extreme precision
highly durable with an anodized aluminum frame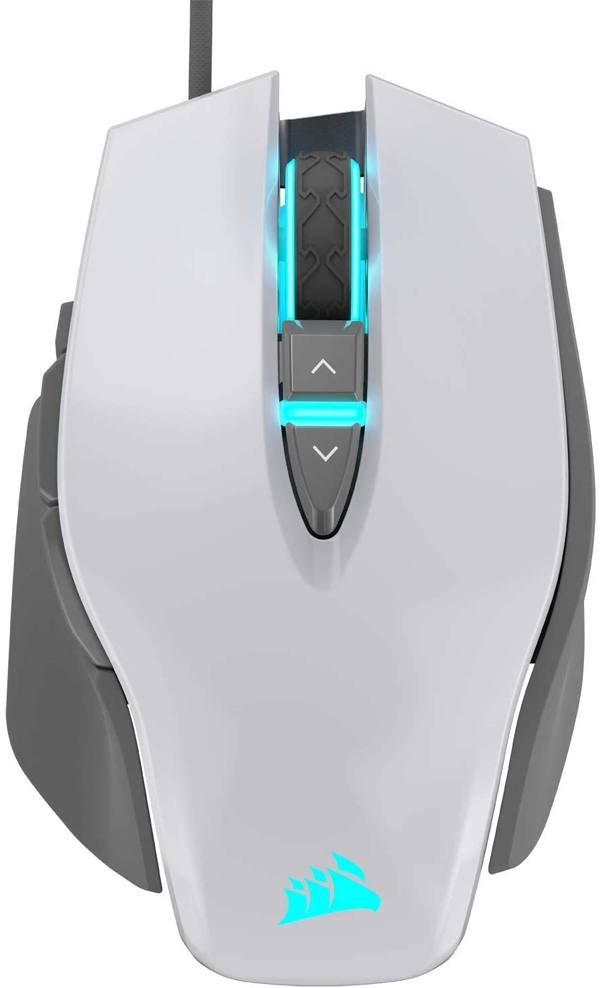 Check Today's Price of Corsair M65 RGB Elite ➜➜
If you happen to play a lot of FPS games, this is your best bet. Let me explain why.
This mouse boasts maximum performance. With a custom Pixart PMW3391 sensor and 18,000 DPI, you get peak smoothness and ultra-fast gliding on this mouse. This mouse can shift your FPS gameplay to the next level.
No FPS mouse is complete without a decent sniper button. This mouse has a big sniper button that reduces the DPI so that you can get the precise headshot. It just makes gaming so much more fun and makes you a better FPS player. It can be a little slippery for some, though that's not a deal-breaker.
One of the best features of the Corsair M65 RGB Elite is weight tuning. You can fine-tune the weight and adjust it using six smart weights to your liking. You can make this mouse's weight go as low as 97g. It will feel like a feather in your hands.
Do check out the efficient and budget-friendly best corsair power supply this year.
Beyond that,
The body is constructed of an anodized aluminum frame, a lot durable than other mice in this category. You can safely rely on this RGB gaming mouse for years. The scroll wheel steps are pronounced.
You can even tune the Corsair M65 RGB Elite to give the best precision with the surface used. The surface tuning function is convenient for gamers as it allows for extreme precision without sacrificing performance.
The 2 zone RGB lighting and onboard profile memory can help you to match and customize the mouse lighting to sync with your desktop with all its glory.
All in all, it's an excellent choice for FPS players and gamers alike.
Pros
»

highly suitable for FPS players

»

super accurate optical sensor

»

responsive programmable buttons

»

premium material and aluminum frame
Cons
»

the sniper button might be a little slippery for some
4.   Corsair Scimitar Pro RGB
This mouse is the top choice among pro MMO and MOBA players due to its genre-specific options.
Here are some impressive features of Corsair Scimitar Pro RGB:
17 total programmable buttons
adjustable slider for side buttons
4 zone RGB backlighting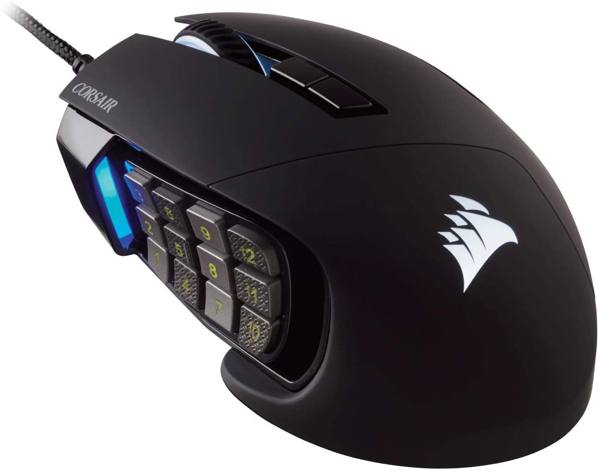 Check Today's Price of Corsair Scimitar Pro RGB ➜➜
This mouse packs quite a lot of features which makes it a must-buy for MMO and MOBA gamers. Let's explore them.
One of the top necessities of any MMO or MOBA player is quick to reach a handful of programmable buttons to allow fast actions. The Corsair Scimitar Pro RGB comes with a total of 17 buttons. The left side alone has 12 of them.
These allow for a very rapid response to enemy deploys and attacks, increasing your chance of winning drastically.
You can slide the side buttons to position them to your need finely. It is a unique convenience that other mice lack. The texture provided on these buttons is also excellent to feel.
Another feature I cannot stress enough is that the side buttons are mechanical. It gives a superior experience compared to other mice that have side buttons.
Grab the latest corsair mouse pad for competitive gaming.
As if that's not enough,
16000 DPI and 1000Hz polling rate guarantee the best connectivity in terms of speed. The connectivity is USB wired and is braided.
You get decent build quality and durability with the Corsair Scimitar Pro RGB. In terms of dynamic RGB lighting, it possesses four RGB lighting zones and three onboard memory profiles.
With a weight of just 147g, this mouse inclines towards right-handed palm grip users. If you're a claw gripper, it might not be the best choice.
Overall, this mouse is perfect if you want to take your MOBA skills to the next tier.
Pros
»

12 nicely textured programmable buttons

»

high DPI (16000) ensures a smooth experience

»

you can reposition side buttons as per need
Cons
»

can be hard to get used to for claw grip users
5.   Corsair Ironclaw RGB
The Corsair Ironclaw RGB is a premium mouse that focuses on ultimate comfort, precision, and mind-blowing performance.
Key features of the Corsair Ironclaw RGB:
18,000 DPI and custom Pixart PMW3391 optical sensors
lightweight at just 105g
durable Omron switches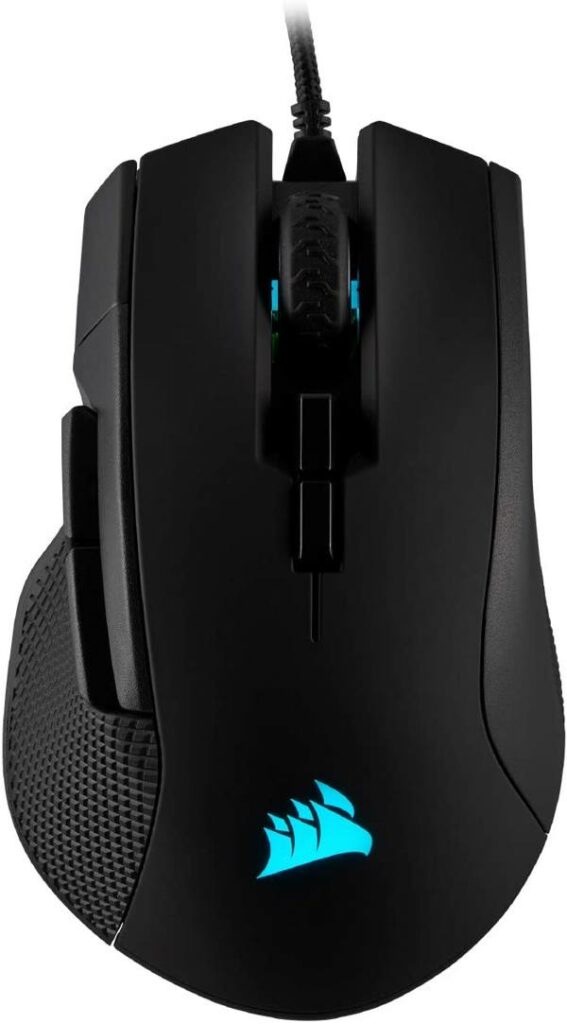 Check Today's Price of Corsair Ironclaw RGB ➜➜
From every angle, the mouse feels and looks premium. Premium plastic gives it a delightful feel. The mouse is contour-shaped. It has a smooth concave indentation to rest your fingers.
What does this offer you?
Well, you get a mouse that's comfy to hold with nice textures, you feel less fatigue on lengthy sessions of intense gaming, and the use of premium materials also ensures durability.
When it comes to performance, the Corsair Ironclaw RGB houses the PMW3391 optical sensor. It has a DPI of 18000, which is more than most gamers ever need. This, together with the weight of just 105g, makes it a top-tier mouse for FPS and MOBA players. The scroll wheel feels very superb.
The wire is made of braided premium fiber, which will last you a long time. It also features two programmable buttons on the side which are immensely helpful for some quick actions in an intense battle. It will elevate your gameplay the moment you start using it.
Also, Check out our expert-recommended best corsair headphones for crystal clear sound effects.
But is this mouse perfect for your grip?
Though the name might suggest it's for claw grippers, it's for right-handed palm grip users in reality. It's perfect for a palm grip on small hands, and you can even use it on claw grip for large hands. If you have a palm grip and large hands, you might find the Corsair Ironclaw RGB a little too big for you.
The RGB is beautiful to look at. Together with the iCUE software, you can customize the dynamic RGB backlighting a lot. It also allows you to save the customization in the onboard memory.
Lastly, I would say that the Corsair Ironclaw RGB is a serious bang for the buck when we compare its price vs. the features and premiums it provides.
Pros
»

super high DPI resolution

»

comfy for small palm grip or large claw grip

»

premium build and looks
Cons
»

large palm grippers might find it uneasy
6.   Corsair M55 RGB Pro
The Corsair M55 RGB Pro is a solid mouse that aims for versatility, high performance, and an ambidextrous design.
Here are some notable features of the Corsair M55 RGB Pro:
lightweight at just 86g
ambidextrous design for use with both left or right hands
suitable for a wide variety of grips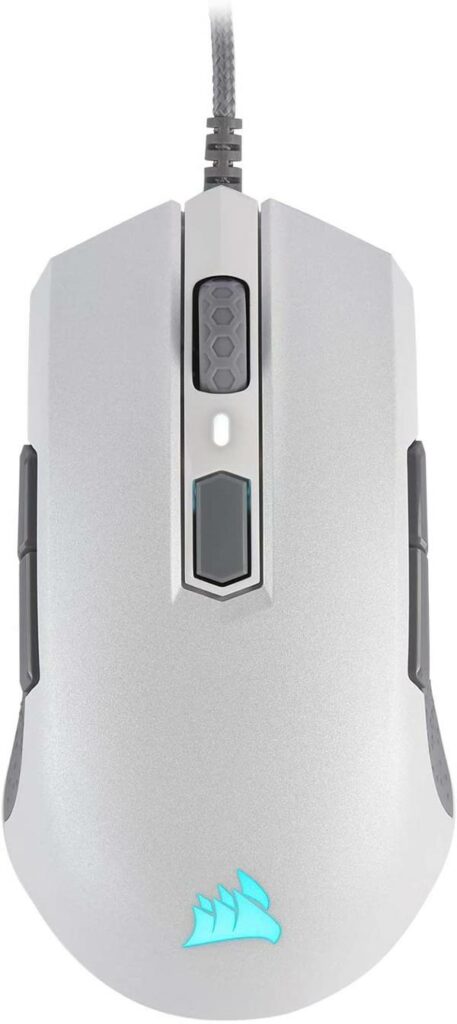 Check Today's Price of Corsair M55 RGB Pro ➜➜
The main focus of this mouse is to stay versatile. It will allow you to play games in various styles. Whether you play palm grip, claw grip, or fingertip grip, it is suitable for all.
The mouse is very light, 86g, to be precise. It allows you to have fast movements and less fatigue. It also houses the PMW3327 optical sensors, which have 12400 DPI at its highest. All of this combined gives you a solid gaming experience.
Another area where the Corsair M55 RGB Pro is versatile is its ambidextrous design. It results in a mouse that you can use on both hands. There are two side programmable buttons on either side of it, allowing you to have options and customize them according to your liking.
Overall it gives you a solid gaming experience, whether you play FPS or MOBA games. It checks in all the key areas.
Now let's focus on some more features.
The DPI switch buttons and the primary buttons are all tactile and have low latency. The 2 RGB lighting zones provide a wide range of customization in terms of lighting. The iCUE software goes a long way when it comes to lighting.
Do check out the latest full corsair PC within budget.
All these being said, I have a few gripes with this mouse.
First is the lift-off distance. It can be high for sensitive players. If the lift-off distance is high, it results in the movement of your cursor when you're trying to re-center or reposition the mouse. It is subjective and depends on the user's preference.
Secondly, the wire is braided and feels premium, it's very stiff. Stiff cables can be troublesome, especially if you have cramped desk space.
All in all, the Corsair M55 RGB Pro is a decent mouse if you prefer versatility and performance for a low price. It certainly won't hurt your bank, given the pricing of this mouse.
Pros
»

superior ambidextrous design

»

made for a wide range of grips

»

nice RGB lighting experience
Cons
»

high lift-off distance depending on user preference

»

the cable is stiffer than most will like
7.   Corsair Harpoon RGB Pro
The Corsair Harpoon RGB Pro is a serious bang-for-buck for beginners who want to explore the world of FPS gaming.
Key highlights of the Corsair Harpoon RGB Pro:
comfortable contour shape
rubberized sides for a firm grip
PMW3327 optical sensor with up to 12000 DPI for super sensitive gaming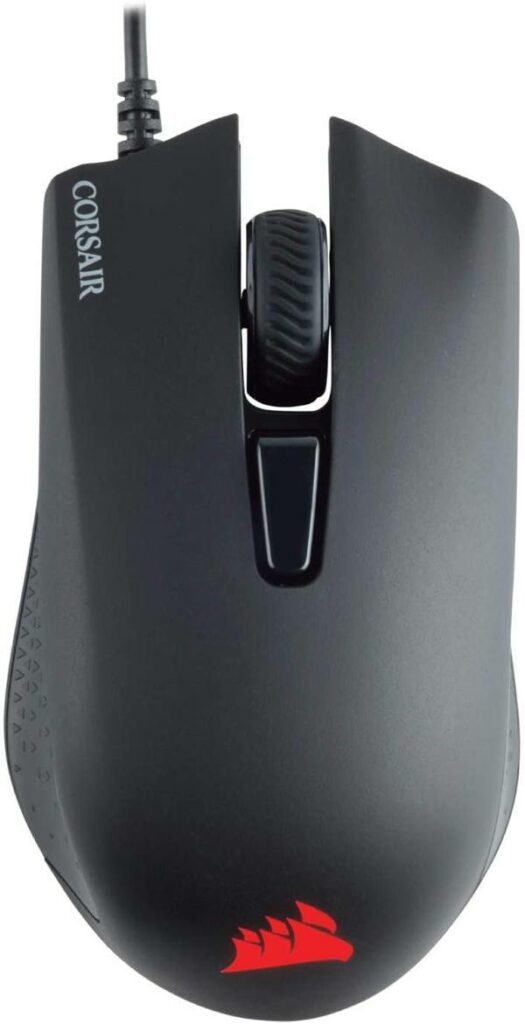 Check Today's Price of Corsair Harpoon RGB Pro ➜➜
This mouse aims for ultimate performance at a low price. It packs the PMW3327 optical sensors, which is a mighty sensor for the price. It has a maximum DPI (dots per inch) of 12000, which is very sensitive and responsive.
The gaming experience is very smooth, and the mouse glides like butter on a decent mouse pad. It also has a sniper mode which reduces the DPI to as low as 250 so that you can get a clear headshot. The Corsair Harpoon RGB Pro gives you a premium gaming experience at an affordable price.
It has six programmable buttons that are very easy to access and provide an excellent tactile click. At just 85g, it is very light and provides you with a smooth experience overall along with its high performance.
The 1.8m cable is made of tangle-free rubber, which everyone expects at this price. A braided cable could have been more excellent.
This mouse is especially suitable for claw grip players. That being said, it quickly affects any player with small hands.
If you are in the market for a high-performance mouse but don't want to shell out much, the Corsair Harpoon RGB Pro is the one to get. Check out our separate post on the fastest best corsair rams.
Pros
»

high performance at a small price

»

very high DPI of 12000

»

premium looking with a firm grip
Cons
»

a braided cable could give a more premium and durable experience
Corsair Mouse Buyer's Guide
If you are going to shop for a Corsair gaming mouse, there are some things you should keep in mind before starting:
Connectivity
USB wired gaming mice generally allow for much faster data transfer between mouse and PC.
On the other hand, wireless gaming mice are the go-to for anyone who wants a clean setup. The technology has immensely improved over the years, and now you can get your hands on an RGB wireless gaming mouse that's as responsive as a wired one, though a bit more expensive.
Another thing you need to keep in mind is the charging. Some have wireless charging, some charge via cables, and some offer both options together.
Grip and Genre
Mouse manufacturers often design mice keeping specific genres in mind. Some are more suitable for FPS games with sniper buttons and low click latency optical sensors, while others are for MOBA or MMO players with 8 or 12 programmable buttons.
They also differ based on ergonomics and shape. From palm grip to claw grip or fingertip grip, you can find different mice suitable for different grips.
Optical vs. Laser
Laser mice used to be better in the early days, but optical sensors have come a long way and, in some cases, provide better results than laser ones.
In general, laser mice provide more responsiveness, while optical ones are more reliable and less jittery.
Mouse Weight
Weight is an essential factor when it comes to choosing a mouse for gaming. Typically you would want a lightweight mouse but also do not sacrifice much in terms of features.
Anything around 100g or less is an ideal choice for most gamers.
FAQ
Question: Is Logitech better than Corsair?
Answer: It depends on the specific model. Corsair offers a more attractive RGB, premium feel, customization through the Corsair utility engine iCUE software, and comfortable design. They also tend to have fewer double-click issues than Logitech.
Question: How long does a Corsair Mouse last?
Answer: Corsair manufactures mice to last a long time. Premium build and materials, durable Omron switches, braided fiber cable contributes for it to last long. However, the scroll wheel tends to fail quicker.
Question: Does Corsair have good mice?
Answer: Some of the best gaming mice in the industry are the Corsair mice. They make a wide range of suitable mice for almost any genre of games or any type of gamers. In terms of build quality, RGB, customization, and comfort, they are pretty decent.
Final Thoughts
This list of the best Corsair mouse will surely help you pick the best one according to your needs. Feel free to leave any comments below.