If you are looking for an SSD that syncs well with all your aura sync components, then you have landed in the right place!
In a hurry, check my #1 recommended SSD.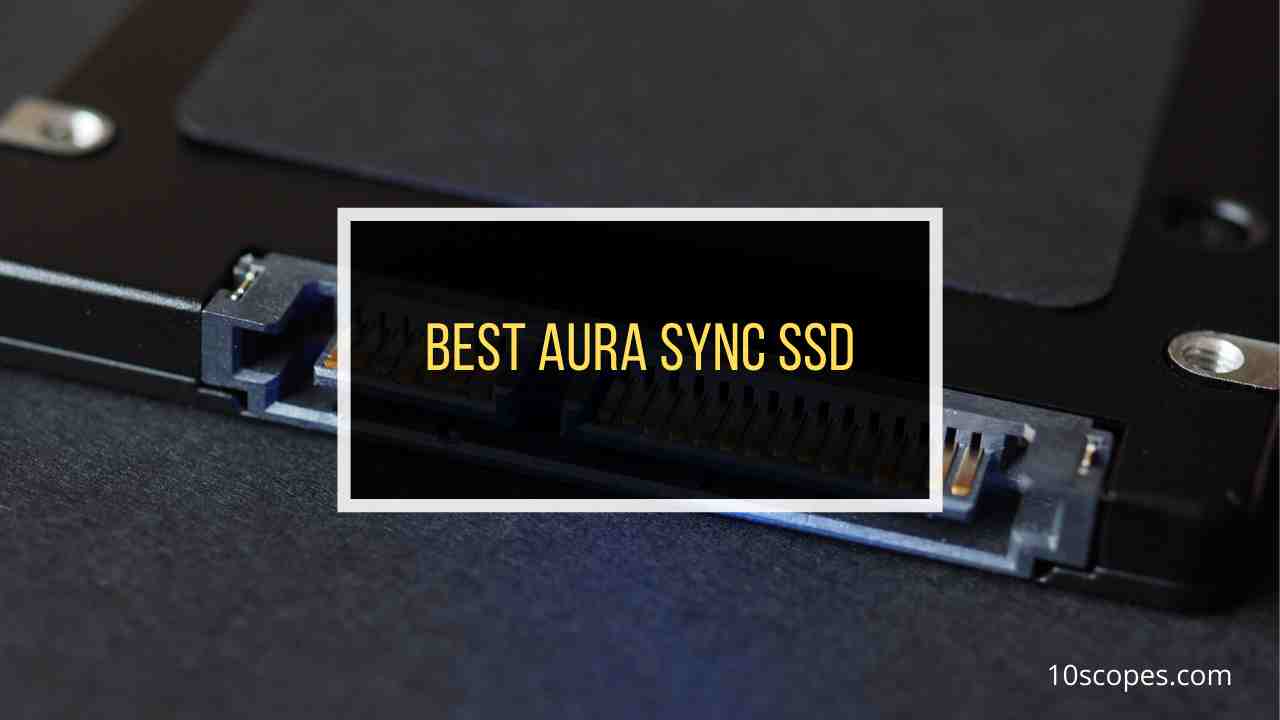 I researched for almost one month. From this research, I can conclude that only the 6 best aura sync compatible graphics SSDs worth buying.
But you don't have to spend that much time like me.
So stay with me and get to know about the six aura sync SSDs that I reviewed.
Aura Sync SSD Reviewed: Our Recommendations
There is a notion about SSDs that they tend to be pricey. Well, that used to be true a while back. But these days, there is a considerable drop in the price tag, making the SSDs way more affordable.
These SSDs play a vital role in making your sluggish system active and responsive. Mostly they ensure the fact that the booting or loading process doesn't get lengthy.
Here is the list of the best aura sync compatible SSDs:
1. ADATA XPG Spectrix S40G
When you are looking to shift from HDD to SSD and look for the best available option, this SSD from ADATA can be one viable option.
The ADATA XPG Spectrix S40G RGB comes with some fantastic features:
Storage of 1 TB
Read speed of 3.5 GB/s
It has NVMe support.

Check Today's Price of ADATA XPG Spectrix S40G ➜➜
As an SSD, it gives you the chance to have one of the system's best-performing options. It looks very flashy with the best implementation RGB that an SSD can have. You can even call it the best mainstream PCIe SSD.
The structure consists of a 4-lane NVMe with a combination of PCIe 3.0. Also, it has the 2nd gen 64-layer manufacturing. The drive comes with an M.2 form factor that also comes with a blackish PCB. The thing you'll love about this drive is its exceptional write and read speeds. In addition to that, the SSD also possesses a high durability rating.
Also, the 256-bit hardware encryption, along with the powerful endurance ratings, stabilizes the performance level.
Like I said earlier, this super-fast storage has one of the best RGB lights. 8 RGB LEDs diffuse around the plastic made heatsink, which is quite luminous when they come to life.
These LEDs shine like none other and are the best in business.
For customizing the LEDs, you can avail of ASUS aura sync software along with XPG's default software. In this case, you'll have eight-color palette options per pattern that will add a new dimension to your system's aesthetics.
While using the ADATA XPG Spectrix S40G, you'll find it very efficient. Even when the LEDs illuminate, they don't consume much power.
With such top-notch features, once you add this to your system, it would be hard for you to switch from this solid-state drive.
Pros
»

Super-fast

»

High endurance

»

Value for money
Cons
»

Setting the RGB profile gets problematic
2. Patriot Viper VPR100
As an entry-level SSD, the Patriot Viper VPR100 is an excellent option to choose from for your gaming build. The Patriot Viper VPR100 comes with some superb specs:
The capacity of 256 GB
5-year warranty
Read speed of 3.3 GB/s

Check Today's Price of Patriot Viper VPR100 ➜➜
This SSD was mainly designed and brought into the market for gamers and overclockers. They are the main target as buyers for this speedy fancy-looking drive.
This SSD sports a double-sided design, with having an M.2 form factor. You'll notice a bluish 10-layered PCB engraved on both these sides.
The drive is TLC NAND based, given that it has a 64-layer Toshiba TLC. Besides, it also consists of a Phison E12 PCIe 3.0 NVMe 1.3 SSD controller. The 8-channel construction in the controller will impress you. Even if your system is putting on heavy workloads, this SSD can withstand.
Another fantastic fact about this SSD is that it comes with a sleek aluminum heat shield, which plays a big part in its cooling process.
You'll find 13 LEDs etched on the PCB, ten around the edges, and the other three on the logo in the middle of the top plane. These LEDs are illuminated in 5 different lighting zones using the profiles set by the aura sync software. In selecting the pattern, you'll have a total of 8 other options to choose from.
With all these exquisite features available, there is one downside on the part of this SSD. While syncing RGB, 20-30% of the read/write speed gets decreased. This is one aspect that might annoy you.
The power consumption can be a concern for a few. Though, it's not that of a big deal. Nonetheless, this SSD has decent speed while retrieving data. Few downsides don't make it a bad option.
Pros
»

Great lighting profile

»

Superb endurance rating

»

Decent performance level
Cons
»

Small write cache

»

RGB sync decreases the read/write speed
3. Teamgroup T-Force Delta Max RGB
If you seek an SSD with a top-end performance with fantastic design, then this SSD from Teamgroup is the one I suggest you buy.
The Teamgroup T-Force Delta Max RGB comes with some exciting features:
The capacity of 500 GB
560 MB/s sequential read speed
3-year warranty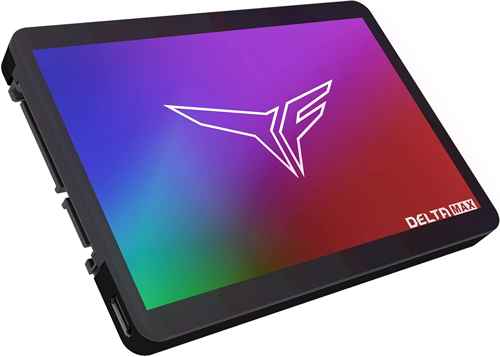 Check Today's Price of Teamgroup T-Force Delta Max ➜➜
By buying this SSD, you'll be having a component in the build with classic finishing. And with the exclusive aesthetics, it even gets better.
The SSD comes with a 2.5 inch SATA form factor. That means it is 2.5 mm, way thicker than the SSDs of a similar type.
A beautiful mirror-like smooth finishing is present over the body, which creates a reflection even when the lights are off. You'll also have water flowing lighting effects over the body of the SSD. I found it looks superb, and I guess you'll too.
The body has a large illuminating area, where you can notice such outstanding effects quite quickly. That area is luminous with mixed color schemes, which you can change with the aura sync software. The lighting creates a situation where an LCD is there on the body's top panel.
This SSD uses a 5V ARGB 3-pin micro B cable.  The main reason behind using the cable is that it attaches the SSD with the motherboard. What results is the flexibility in controlling the lighting of the SSD.
You can control the output of 20 existing LEDs through the aura sync software. But without the cable, forget about controlling; even the lights won't lit up. Besides, this aura sync compatible SSD comes with an SMI 2258G controller along with a 48-layer 3D TLC flash.
With the tolerable power consumption and phenomenal outlook, in my opinion, it's an excellent option to buy.
Pros
»

Amazing aesthetics

»

Top-tier output
Cons
»

Additional cable required for lights

»

Expensive
4. Addlink X70
This is one of the coolest looking SSDs that you can find in the market. What adds more value to its cool looks is the clean aesthetics. The Addlink X70 has some of the best features to offer:
512 GB capacity
Read speed of 3.4 GB/s
3D NAND technology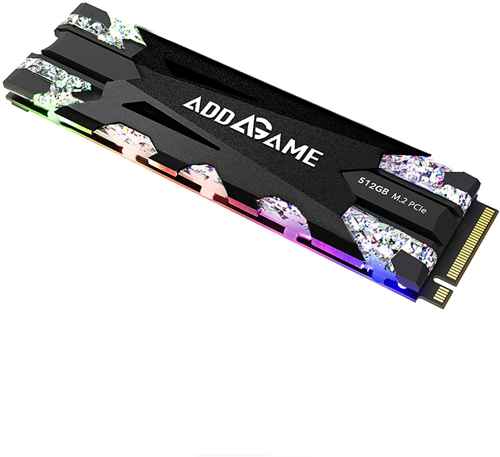 Check Today's Price of Addlink X70 ➜➜
In my opinion, this SSD is suitable for users who are looking for drives that can withstand high-end applications. By high-end applications, here I mean things like video editing, 3D animation, and so on.
The best part about this SSD is that it comes with the latest 3D NAND technology with an NVMe PCIe 3.0 Gen 3 interface. In the interface, you'll find four lanes that are used for receiving and transmitting data simultaneously.
Now, coming to the design, the SSD has a double-sided M.2 form factor.
What makes the difference from other similar types of options is its diamond-cut design. The heatsink is incorporated with RGB, making it look flashy.
Also, the existing 10 RGB LEDs can be controlled and optimized easily with the aura sync software. You also don't need any additional cable for making those LEDs function.
The lighting has a uniform color pattern that looks ecstatic. The metallic heatsink does a fine job. Besides, you shouldn't worry about the LEDs; they don't produce any additional heat.
Pros
»

It doesn't require an additional power cable.

»

It doesn't break even when there is thermal throttling.
Cons
»

Pricey

»

Write performance is not okay.
5. Kingston HyperX RGB
Another entry-level SSD that you can watch out for. It is the Kingston HyperX RGB that I am going to discuss. The HyperX RGB from Kingston comes with some decent specs:
The storage capacity of 240 GB
Read speed of 3.4 GB/s
Cutting-edge Nano edge tech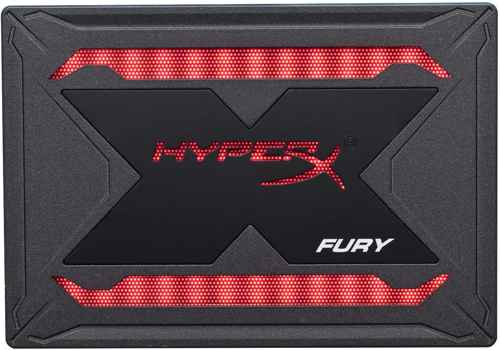 Check Today's Price of Kingston HyperX RGB ➜➜
I liked the RGB implementation on this aura sync solid-state drive. With the attractive design it has, this SSD has a lot to offer. It has a 2.5" SATA form factor. It is also quite different from its predecessors because of the design and the material used to construct the body.
The full-body is plastic made, with black and charcoal texture used all over. The top panel features two RGB stripes that run down to each of the sides. When the lights are on, those stripes lit up, and it seems like something is dazzling over the body.
You can also plug the SSD into the motherboard with an additional cable. It will enable the board feature to dictate RGB control. You'll also face almost no issues while syncing the RGB lights.
The 3D Nano edge tech is another feature of this drive. The whole drive revolves around a 64-layer 3D NAND TLC due to such features.
One downside that this drive got is its endurance rating, which is somewhat average.
Pros
»

Solid build

»

Unique lighting
Cons
»

High price

»

Average endurance rating
6. Teamgroup T-Force Delta
Here I have another SSD for you from the Teamgroup T-Force series. According to my research, it is their T-Force Delta, which proved to be one of the best SSDs. The Teamgroup T-Force Delta comes with some exclusive features:
500 GB capacity
4x times faster than a traditional SSD
560 MB/s read/write speed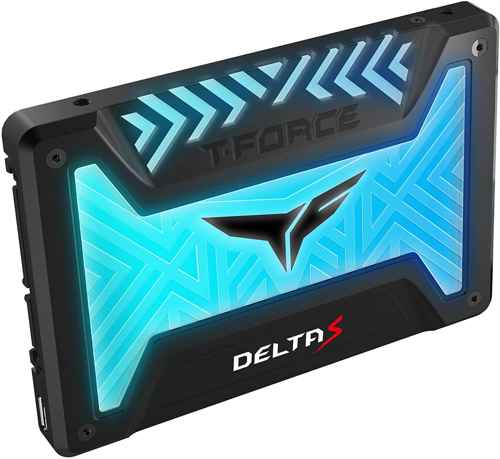 Check Today's Price of Teamgroup T-Force Delta ➜➜
The SSD comes with last-gen 3D TLC NAND along with a silicon motion controller. Besides, the excellent combination of RGB with the design is what can lure anyone to buy it. The body has a blackish texture. Also, the SSD comes with a 2.5 mm SATA form factor.
Being equipped with 8 LEDs, the lighting for this SSD is excellent, in my opinion. You'll have a pool of 16.8 million colors to choose from while customizing the lighting patterns.
The SSD also consists of 12V 5-pin RGB headers, which enable you to connect it to the motherboard using a separate cable.
The best part of all these things is that the SSD's surface glows whenever the lights are on.
The performance of the Solid state drive is speedy enough, though you might not be satisfied with the endurance rating.
Overall, if you are looking for a 500 GB drive that gives a decent output, then I must say that you should check this one.
Pros
»

Good performance level

»

Power-efficient
Cons
»

Average endurance rating

»

Premium pricing
Aura Sync SSD Buying Guide
Shifting to a solid-state drive from HDDs is always a better option, as per my opinion. Compared to HDDs, the SSDs perform better. They quicken the operations of your system while loading games or booting other programs.
Not all SSDs will offer you the same level of performance. In this situation, your decision of selecting the right SSD should abide by some specific factors.
Here are some factors that will help you choose the perfect SSD for your PC:
Form Factor
SSDs come in three form factors. They are- 2.5 inch SATA, SSD AIC, M.2 SSDs, U.2 SSDs. If your build consists of a SATA connector and 2.5-inch drive bay, it is better to choose the ones with a 2.5 inch SATA type. They are also the most common ones available.
In case you are looking for slim SSDs, then the M.2 SSDs would be the right option. Or else, for the fastest one among all of the kinds, you can go for SSD AIC. They tend to be perfect for moving data at super speeds.
Capacity of SSD
SSDs come with different volumes. From 128 GB to 4TB, you can find them coming in with variable price tags.
When the responsiveness rate is a concern, try to avoid the options that come with 128/256 GB capacity. For working with large and complex files, opt for SSDs with a size of 1/2 TB.
If having much space is the main requirement, then go for the ones with a capacity of 4 TB or beyond.
Power Consumption
Generally, SSDs with higher capacities tend to be power consuming. The reason behind this is that SSDs with high capacities can retrieve data at much higher rates.
That is why, if the efficiency requires much attention, then go for the less spacious drives.
Compatibility
Does your computer support the SSD you are going to buy? And, Does your motherboard have the required slots to fit the SSD?
Ask yourself the answer to these questions. Eventually, you will get to know which SSD is the right choice for you.
FAQ
Question: Which type of aura sync SSDs are faster?
Answer: Aura sync SSDs with higher capacities tend to be effective and fast. Therefore, SSDs with a volume of 512 GB or above is said to be the faster ones.
Question: Does additional power cable affects aura syncing?
Answer: The aura sync software's primary function is keeping the SSD synced with the motherboard. And so, the additional power cable makes this job easy. This cable mainly connects the board to the SSD.
Final Thoughts
SSDs are always better options than HDDs in terms of functions and performance. They are way faster and handle high-end applications skillfully.
I have compiled six best aura sync compatible SSDs in this blog, consisting of all such traits required for a perfect gaming build.
I have also mentioned the options that are good as an entry-level or for high-end performance. I reckon that you already got an idea about the one you are going to buy.
Despite this, if anything concerns you or you are unclear about it, do let me know.