There is a belief that the RAM speed matters less while selecting the right memory kit.
To some extent, it might be correct, but in a general sense, it's not. And if the RAM is ultra-fast, then this belief is unreal.
In a hurry? Check my recommended 4800 Mhz RAM.
Or take some time and read the entire review on these ultra-fast memory modules.
A RAM with a speed of 4800 MHz will always be better than the one with 2666 MHz.
But the question is which 4800 MHz would be the best one.
Don't get confused. As in this post, I listed down three such memory kits, which will satisfy your gaming needs.
Also, check out the suitable RAM for Ryzen 7 5800x.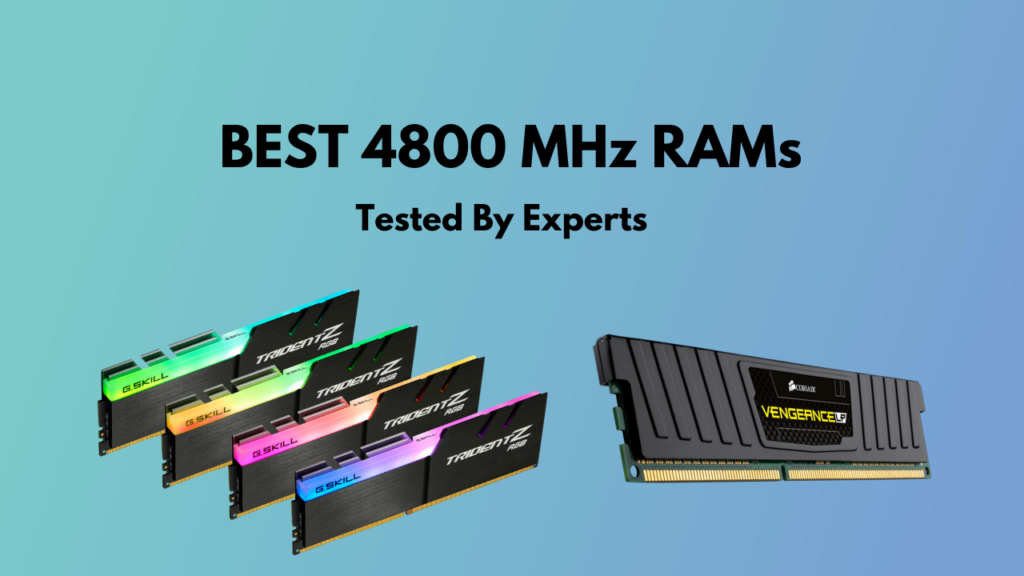 Best 4800 MHz RAM Reviewed
Ultra-fast memory kits that come with a rater speed around 4800-5100 MHz are pretty cool.
Especially for the gamers who like to squeeze the best out of their gaming rig.
Now, some options come with such speed, but most of them aren't that good. To be honest, I feel there is a shortage of top-quality high-speed memory kits.
But no worries, I am here to help. That is why I won't take a second anymore. Check out our experts recommended best RAM for Ryzen 5 5600x and Ryzen 9 5950x RAM.
Here are the three best 4800 MHz RAM for your gaming build:
1. G.Skill Trident Z Royal Gold
My first RAM from the list is a treat to the eyes. It's like a piece of jewelry that will give a new dimension to your gaming rig.
As a DDR4 RAM, it sports some notable specs:
Capacity: 16 GB
CAS latency of 18
Voltage: 1.5 V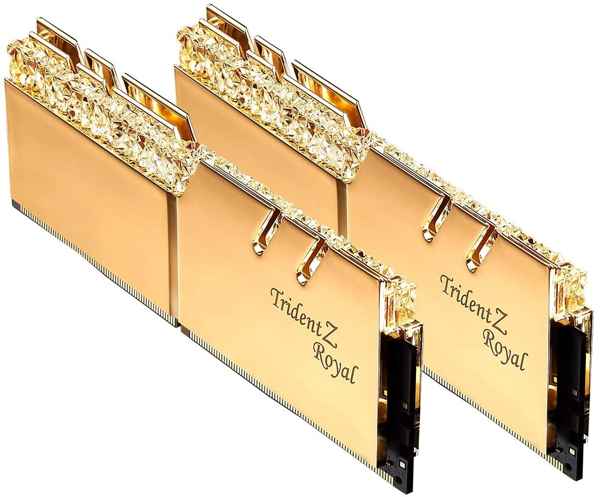 Check Today's Price of G.Skill Trident Z Royal Gold ➜➜
G.Skill is one of my favorite brands for PC hardware. The components from them always turn out to be top-notch. Almost all their memory kits come with superb overclocking prowess. And this model from them is one such memory kit.
As a RAM, it is a complete extravaganza. I mean, you can't just deny that it's one of the best looking RAM modules that you have ever seen.
The goldish texture looks outstanding. Mostly I must appreciate the gorgeous finish given on the heat spreaders. They look terrific, and the glossiness in them is excellent.
That said, you have to agree with me when I say that the type of beautification in the modules is of the next level. Thinking of building a gaming  PC with all 3rd gen AMD components? Check out our experts recommended best graphics card for Ryzen 7 3700x, RAM for Ryzen 7 3700x, and the best motherboard for Ryzen 3700x.
Now, the RGB implementation in modules is something pretty unique. There is a crystal-like part in the modules under which RGB LEDs are divided into eight zones.
When you turn on your rig, and everything gets lights up, the vibrancy offered by the LEDs in modules will feel unreal.
I loved the rainbow effect that is created due to the presence of the crystalline part. If you're someone with good taste in aesthetics, pretty sure you'll love it too.
Performance-wise, I would say that this DDR4 gaming RAM possesses a terrific overclocking potential. When I was testing, it was insane. I breached the rated speed with no complications. And since it's XMP enabled, the task just got easier.
Also, don't forget to check out best Aura Sync compatible RAM for gaming freaks.
However, as a memory kit, it isn't devoid of some issues.
The glossy finish might look stunning. But when the dust settles on the modules, the glow is gone.
Also, the price is pretty high for this model. It won't be reasonable for every gamer.
But, let's not take anything away. As a gaming RAM, it is the epitome of beauty with a beast-like performance. I would highly suggest buying this as a memory kit for getting the best out of your system. Don't forget to check out some of the best 3200 MHz RAMs for a faster gaming experience.
2. HyperX Predator
Not many memory modules are there, which are speedy and also durable at the same time. This model from Kingston is one such high-end option that can assure you of the speediness and durability you are looking for.
This model sports the following specifications:
Capacity: 16 GB
CAS Latency of 19
Lifetime warranty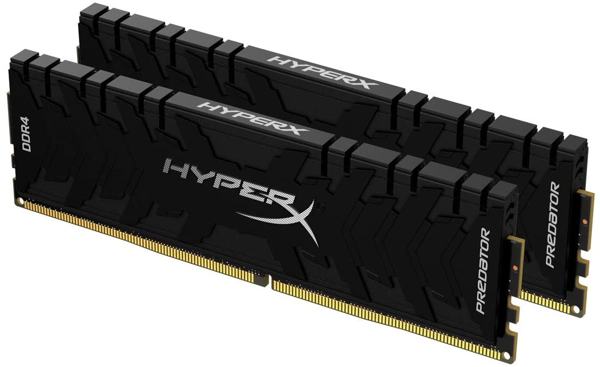 Check Today's Price of HyperX Predator ➜➜
Whether you are an overclocking enthusiast, gaming freak or video editor, it doesn't matter much. As this RAM, that is the HyperX Predator from Kingston, got it all covered.
It is a RAM kit that can serve different purposes in the same way without any drop to the performance level.
It's a superb high-end gaming RAM that can assure you that your gaming performance won't have any lag. It comes with an aggressive blackish design with heat spreaders featuring some fierce styling. The durability is top-notch. In fact, it is the most durable memory kit out of the three options on my list. Check out some of the best 2666 MHz RAMs for a faster gaming experience.
Compatibility-wise, there are no issues. You can use it in almost all the latest motherboards out there on the market.
About the performance, I would say it's decent. I got what I expected. At the time of testing, there was a boost in the FPS, which I actually predicted.
Sadly, the problem with this RAM might be its RGB syncing-related issues. Not all motherboard software is that responsive so that you might face some complications with sync.
But that's a rare case. Not necessary that it will happen to you.
Overall, I would say that this DDR4 RAM offers pretty reliable performance and is a good buy for any high-end rig.
Here's a complete guide on how to overclock DDR4 RAM.
3. Corsair Dominator Platinum RGB
My third and last RAM from the list is a model from Corsair. It has been tried and tested, and it proved to be one the best ultra-fast gaming RAM kits.
This model attributes some notable features:
Capacity: 32 GB
CAS Latency of 19
12 ultra-bright LEDs per module
Voltage: 1.35 V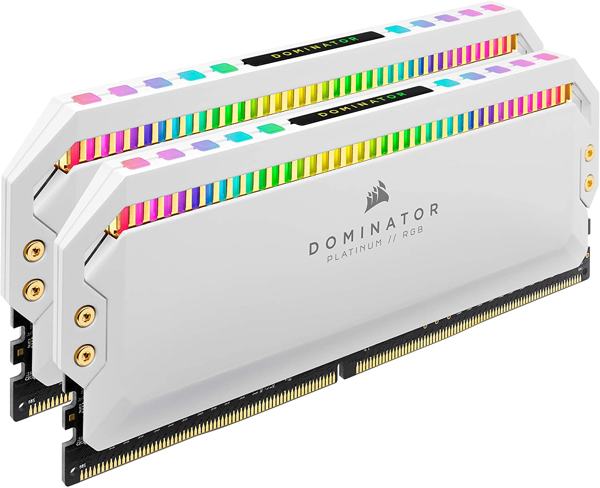 Check Today's Price of Corsair Dominator Platinum RGB ➜➜
There is no question about the RAM modules from the brand Corsair. The gaming community reveres them for their top-notch memory kits.
This Dominator Platinum RGB is one of their best kits in recent times. I personally liked it because of its elegant design along with top-end squeezing ability.
Therefore, let's start with its design.
Here I am talking about the white version, which looks pretty impressive. White is my favorite color, so I might seem a bit biased. But believe me, the elegance in this white gaming RAM is something unique and attractive. Don't forget to check out some of the best 3000 MHz RAMs for a faster gaming experience.
The RGB implementation in this RAM is top-tier. In each module, there are 12 bright Capellix LEDs, all of which offer a stunning glow. Also, to control them, you'll have the Corsair ICUE software, which is quite simple to use.
Now, this is a flagship memory kit from Corsair. So, the performance has to be top-end.
When I tested it in my AMD build, I found that it possesses an outstanding overclocking potential.
The best part is:
There is a superb balance between speed and stability. Under heavy loads, there were no issues.
Though, due to the height of the modules, there are few problems regarding clearance. But if your rig is big enough, this is nothing to worry about.
Moreover, I loved this gaming memory and would suggest you add this to your gaming build. Don't forget to check out some of the best 4000 MHz RAMs for a faster gaming experience.
Final Thoughts
Therefore, these were the best 4800 MHz gaming RAMs. As a gamer, I would suggest not to listen to people who aren't that much into gaming. RAM speed matters, and these three RAMs are the right examples.
All of these three are superb and have their own aspects. Personally, I would suggest you buy the Corsair Dominator Platinum RGB because it's reasonable in terms of price to performance ratio.
Still, if you have any queries, feel free to ask in the comments.