There are various aspects to consider while selecting the right RAM for your gaming rig.
Capacity, speed, number of modules, latency timings are some major ones. In between these things, if you are a gamer who would like to tweak your system, high-speed RAM can be a potent option.
Out of time? Check my #1 pick.
Or, if you're doing nothing, take some time to read my entire review.
4400 MHz? Sounds nice. But which are the best DDR4 kits rated at this speed?
In this post, I listed some of the best gaming RAM modules rated 4400 MHz.
Don't forget to check out some of the best 4800 MHz RAMs for a faster gaming experience.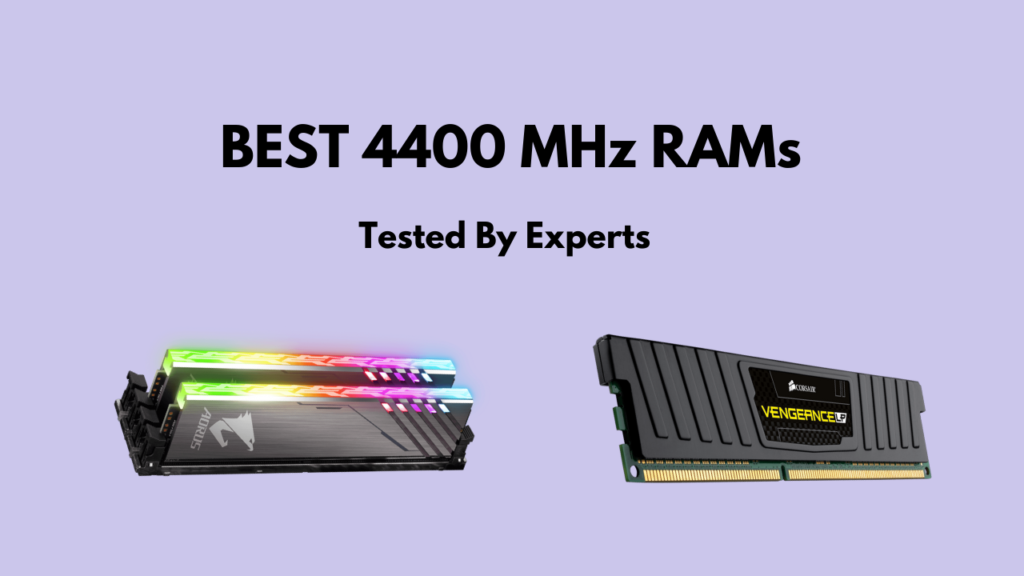 Best 4400 MHz RAM Reviewed
To be honest, 4400 MHz is one hell of a speed. And if you buy a gaming RAM with this speed, your gaming performance will indeed have some gains.
However, not all the 4400 MHz memory kits might not prove to be reasonable for you. That is why I suggest you go through my list and find the best RAM as per your needs.
That said, I don't want to kill your time anymore. Don't forget to check out some of the best 4000 MHz RAMs for a faster gaming experience.
Here are the seven best 4400 MHz RAM for gaming:
1. Thermaltake Toughram RGB
My first RAM from the list is the Thermaltake Toughram RGB. This DDR4 RAM features everything that a gamer wants to get the best out of his rig.
Some of the notable features of this RAM are:
Capacity:16 GB
8 million colors to customize
Ten addressable LEDs per module
10-layer PCB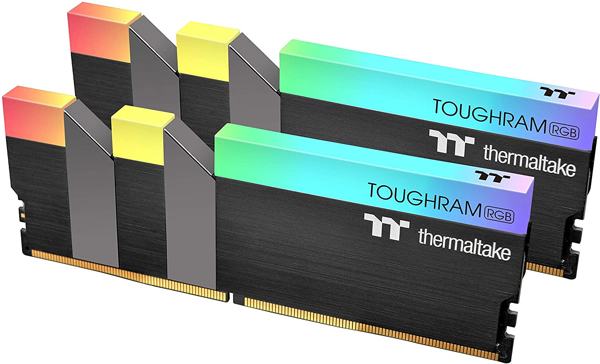 Check Today's Price of Thermaltake Toughram RGB ➜➜
Thermaltake made a name for itself for its cooling solutions and PC cases in the PC hardware market. Gamers know that they are a top brand providing some high-end solutions.
This DDR4 memory kit from them is one such solution, which I feel is one of their best products to date. It is one of the most potent memory modules that also offers excellent value for money.
Design-wise you will like it. It has an excellent implementation with a good finish. The heat spreaders look polished and do a great job in the removal of heat. They are aluminum-made and are quite thick in nature.
Now, let me tell you the best part.
The RGB implementation in this RAM kit is one of the best. You'll get enough options for customising to bring a vibrant experience. A total of 16.8 million colors are there for customisation.
Amazing… isn't it?
I would like to say that this RAM will give a considerable performance boost to the gamers about the performance. After I tested it in my rig, I found that this RAM is fast enough for any high-end gaming rig. I breached the rated speed effortlessly, and if you want, you can even go beyond 5000 MHz. Don't forget to check out some of the best 3000 MHz RAMs for a faster gaming experience.
Lastly, I would say this RAM is an excellent option to buy as it's not that pricey. It enables you to enjoy all the high-end features at a reasonable price.
2. Crucial Ballistix MAX
If you are an enthusiast who wants to tweak the hell out of your system, this kit from Crucial would be the right choice for you.
This model from Crucial comes with the following specs:
Low-profile form factor
Capacity: 16 GB
Aluminum heat spreaders

Check Today's Price of Crucial Ballistix MAX ➜➜
This DDR4 memory kit is for every gamer who loves to overclock their system to get a significant boost to their gaming.  It doesn't matter whether your build is AMD or Intel. This kit would ensure that your system's performance is maximized.
Now, this memory kit also comes with durable heat spreaders. In both modules, there is no element of fleshiness. The modules possess a blackish design with a matte finishing, which looks quite cool.
In my opinion, the overall design is quite elegant. Check out some of the best 2666 MHz RAMs for a faster gaming experience.
The main advantage that you will get with this RAM is its small height. It will enable you to add bigger and bulky CPU coolers without any issues regarding clearance.
As for the performance, it has an overclocking potential. I would say it is the best overclockable RAM on my list. I reached near 5000 MHz by pushing it usually. If you try it harder, you can go beyond.
In a nutshell, as a DDR4 gaming RAM, it's a good prospect.
3. Corsair Vengeance LPX
Another high-end RAM is good for overclocking. This time it is for Corsair.
This model from Corsair attributes the following specs:
Capacity: 16 GB
Low-profile design
Individually screened IC's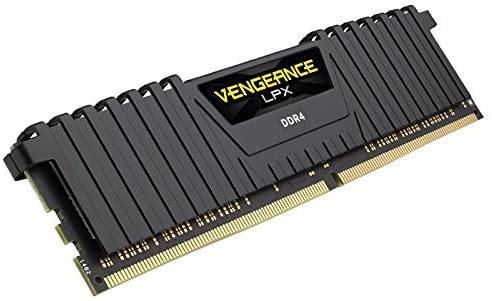 Check Today's Price of Corsair Vengeance LPX ➜➜
For someone who wants a faster memory kit, this model can be a top choice.
I am quite amazed about the fact that this RAM is not that much talked about among gamers. I feel it deserves way more hype.
As a DDR4 RAM, it is highly reliable. Especially if you are a performance enthusiast, I would say this memory should be one of your top priorities.
It is fast and consistent. At the time of testing, I found that the speed doesn't drop drastically. Also, there is a nice balance between speed and stability.
However, aesthetics-wise you may find this RAM kit a bit dull because much emphasis has been given to performance since it's performance-oriented RAM.
Overall, I would say it's a good gaming RAM with decent features. Don't forget to check out some of the best 3200 MHz RAMs for a faster gaming experience.
4. Patriot Viper Steel Series
If you prefer durability alongside performance, then this DDR4 RAM from my list can be a perfect choice.
This model from Patriot sports some fantastic specs:
Capacity: 16 GB
Gunmetal design
Aluminum heat shield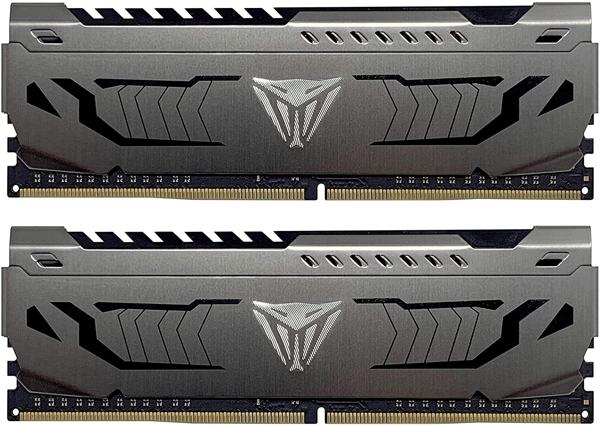 Check Today's Price of Patriot Viper Steel Series ➜➜
It is that sort of RAM that you as a gamer can highly rely on. As a gaming RAM, it is one of those few options that bear minimalistic aesthetics and still can offer you top-end output.
In my opinion, aesthetics has nothing to do with performance. But few gamers don't think so. That's why I added this DDR4 memory kit just to break their bubble.
Let me start with the design first.
This model from Patriot sports a gunmetal design. Styling is done aggressively, which looks pretty cool. The modules look polished, and I bet you'll love this if you prefer something smooth and elegant. Thinking of building a gaming  PC with all 3rd gen AMD components? Check out our experts recommended best graphics card for Ryzen 7 3700x, RAM for Ryzen 7 3700x, and the best motherboard for Ryzen 3700x.
Now, what's missing in the total aesthetics is the RGB lighting. For an RGB freak, this might be a huge turn-off. But hey, that's not the thing for which you will be buying this RAM.
Performance matters the most, and that's where this gaming memory stands out. I tried this on my rig, and believe me, there was no lag at all. Instead, the modules were stable as a rock, which ensured a top-notch gaming performance.
To end up:
Yes, this RAM might not have LEDs, but the performance it offers is no less than most high-end RGB modules.
5. Crucial Ballistix MAX RGB
Here I bring you the RGB version of the Crucial Ballistix MAX. It is a top-tier memory kit that can ensure a stable gaming experience.
This memory attributes the following features:
Capacity: 32 GB
CAS Latency of 19
8-zone RGB
Low-profile form factor

Check Today's Price of Crucial Ballistix MAX RGB ➜➜
In my list, this is the second memory kit from the Crucial Ballistix series. And to be honest, it's fantastic.
The best part is:
This is yet another RAM with a low-profile form factor that made it to my list. Therefore, if you already have some bulky components inside your rig, no issues. There will be no problem regarding the clearance.
Now, when you see this RAM, you will find it terrific. Because it was designed by keeping gamers like you.
I loved it. There isn't anything flashy, but who needs that. The matte black finish looks outstanding. Check out our experts recommended best RAM for Ryzen 5 5600x and Ryzen 9 5950x RAM.
Besides, the heat spreaders are aluminum-made. You'll find no elements of plastic on it, which ensures the top-notch heat dissipation performance.
RGB lighting in this memory kit is pretty good. In each of the modules, there are 16 LEDs, which are divided into eight zones. These eight zones are pretty luminous, in my opinion.
As for the performance, this RAM will give you excellent overclocking headroom. While testing, I reached 4800 MHz quickly. Also, I heard from a few gamers that they were able to overclock and run close to 5100 MHz.
Serious stuff… Isn't it?
But the problem with this RAM is its price. It's on the higher side, which might not be feasible to many gamers.
Apart from this, if you think money isn't your problem, I suggest you go for this. Also, check out the suitable RAM for Ryzen 7 5800x.
6. Patriot Viper 4 Blackout Series
If you have a thing for all-black designs and if you want to build an all-black gaming rig, this RAM from Patriot can be a viable option.
This model sports the following specs:
Capacity: 16 GB
Aluminum heat spreaders
Low-profile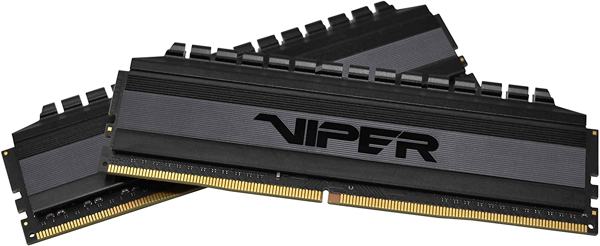 Check Today's Price of Patriot Viper 4 Blackout Series ➜➜
This is one of the simplest-looking Ram on my list. But that doesn't take anything away from its performance.
I believe that RAM has to offer a lot of things other than its looks. And this RAM stands for my belief.
I would say all black scheming done on these modules look ecstatic. It might not be flashy, but it's decent.
Sadly there is no RGB element in this memory kit. I would love some vibrant LED lights glowing inside the build. But Patriot had other plans.
Performance-wise, I found this DDR4 gaming memory okayish. It didn't dominate all the benchmarks, yet it was decent enough.
The best part is:
This RAM is priced reasonably. So, there won't be a toll on your pocket.
Here's a complete guide on how to overclock DDR4 RAM.
7. Thermaltake Toughram RC
The last gaming RAM from the list from the brand Thermaltake. They have been producing some suitable memory kits for a while. So, I thought of adding this model.
This model comes with the following specs:
Capacity: 16 GB
CAS Latency of 19
Lifetime warranty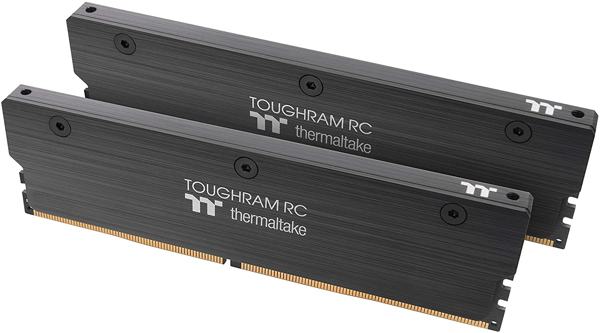 Check Today's Price of Thermaltake Toughram RC ➜➜
This model from Thermaltake is quite underrated. I mean, I see almost no one recommending this. But it should be hyped.
Gamers shouldn't miss the opportunity of adding such a remarkable memory to their gaming rig.
The modules come with nicely polished aluminum heat spreaders. They look stylish and smooth. Also, the IC's used in the modules are of top quality. It's mainly there to ensure that your RAM remains stable even if you overclock.
Talking about overclocking, if not the best, the level of output you get from it is quite decent. And since it's XMP enabled, you automatically tweak to high speeds without any risk.
Overall, my verdict about this RAM is that it's one of the most acceptable options as a mid-ranged RAM.
Also, don't forget to check out best Aura Sync compatible RAM for gaming freaks.
Final Thoughts
I am done with my review. These are the seven best gaming memory kits that are rated 4800 MHz. Among them, you will find every type of option. So, no need to go anywhere else.
Because I believe that these seven are enough to meet every need that gamers have. Still, if you aren't convinced yet with something, the comment section is open. Feel free to let me know.